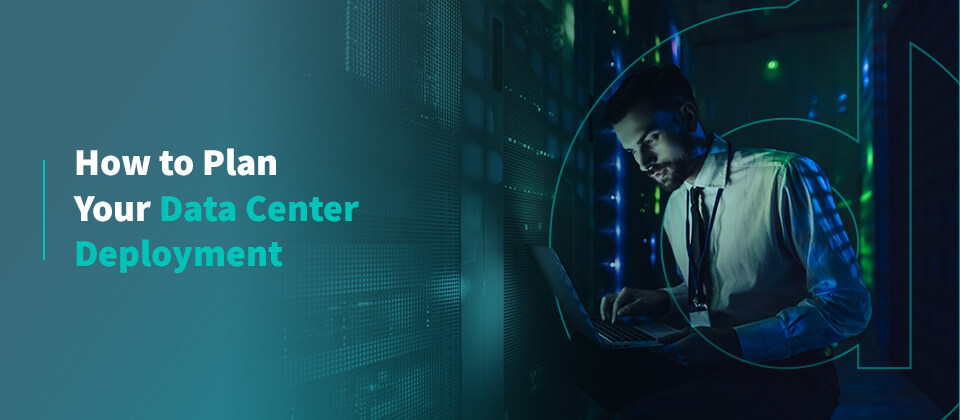 As your organization grows, you need to evaluate and adjust your investment in data center equipment. Whether you have an existing multi-center network or are just beginning with a local center, you have to consider many different factors.
Deploying a modern data center requires carefully managing multiple hardware and software systems to ensure they fit into your existing infrastructure. Effective planning and execution are crucial to getting your center off the ground and maintaining your success even as the technological landscape evolves.
Data Center Deployment Checklist
Data center deployment can be complicated, so we created this data center checklist to guide you through every stage of the process, from planning to implementation.
1. Establish Your Goals
Clearly defining your goals for the data center and developing a rollout plan can help you determine how to implement best practices in your center. Start by outlining your ideal end state — once you know where you want to be, you can create a plan to get there.
Make sure to plan beyond these goals, as well — your business's needs may change in the future, so leaving space for adjustments like increased power solutions and hardware upgrades can save you time and money in the long run.
2. Connect With Stakeholders
Identify the people or departments affected by the deployment. Typically, this list will include your IT and support staff, security team, project managers and technical owners. You will also need to include the groups that will need access to your data center, like the human resources, legal and finance departments.
Work through the following decisions with your stakeholders:
User access: Identify which users will need access to which assets. You can use this information to separate users into access level groups, which can help inform your security policy.
Applications: Identify the applications you wish to sanction in your data center. You can narrow down this list by mapping each application to a business requirement. If you have a hard time determining a legitimate business purpose for an application, evaluate whether sanctioning it is necessary. This process reduces your attack surface and increases network strategy.
3. Evaluate Your Current Situation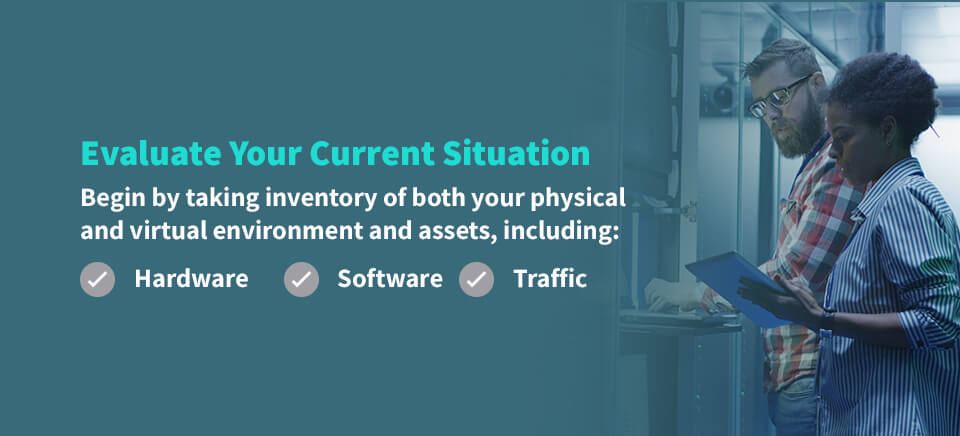 Performing a site audit of your existing data center equipment can help you determine the steps you need to take to meet the goals you defined earlier.
Begin by taking inventory of both your physical and virtual environment and assets, including:
Hardware: Take note of any servers, routers, security devices, load balancers, switches and any other vital network infrastructure.
Software: Record all standard and custom applications your organization uses and the accounts they use to communicate. Focus on your list of sanctioned applications and remove any you have deemed unnecessary.
Traffic: Work with your network and enterprise architects and business representatives to determine a baseline for typical network behavior.
4. Standardize Network Infrastructure Across Locations
Effective standardization enables scalability within your organization. If one of your data technicians were to change location, they would be able to quickly adjust to the new center's topography.
For example, when you are purchasing new equipment, it is important to make sure the companies you choose to buy from are consistent in their product quality. For example, some companies use more than one factory to manufacture the same product. If you get multiple shipments from a company that follows this practice, you may end up with two different products.
To avoid this situation, take note of where a company makes its products before making any procurement decisions. It is also important to remember that base components might not be interchangeable. Switching one part out for another can affect a data center's performance. It can also lead to varying installation and maintenance procedures across your organization, making it more challenging to adapt when your business's needs change.
5. Choose the Right Equipment and Architecture
Opting for a modular design is a great way to leave room for future growth and make installing new components easier. Even when data center requirements change, you will be able to maintain efficient operation and keep costs low.
Other key considerations include:
Rack layout: Application-specific hardware tends to be denser than traditional servers due to advancements like AI and autonomous vehicles. Accounting for higher-density hardware is crucial in planning for future hardware upgrades.
Open or closed racks: Depending on your organization's standards, you may need to install doors on your server racks. When given a choice, many data centers prefer to install open racks because they allow for increased airflow and access. However, even though installing doors will raise the cost, they add an extra layer of physical security to your center.
Containment: Reducing energy consumption is an effective way to keep costs low and minimize your organization's carbon footprint. Cold aisle containment (CAC) encloses the cold aisle so your IT equipment only receives cold supply air. Hot aisle containment (HAC) encloses the hot aisle, which filters hot air away from your equipment and into your air conditioner.
Logistics: It may seem obvious, but creating effective moving strategies is a great way to streamline your deployment. Ensure you have the equipment and personnel available to safely and efficiently move your equipment from one location to another.
6. Partner With a Data Center Expert
Having the proper support is critical for a successful deployment. Consulting with someone who is knowledgeable and experienced in data center management and operation can help you identify red flags and opportunities you may otherwise miss. They can also suggest the best equipment and strategies for your business, so you will have a clear view of the path you should take.
Here are some traits you will want to look for in a deployment partner:
Thorough documentation procedures
Certifications and training
Plans for improvement
Risk mitigation processes
Careful testing and evaluation
Emergency preparedness
Success stories and positive testimonials
Choosing DataSpan for Your Data Center Deployment
If you are planning an upcoming deployment, consider working with DataSpan. We provide custom technology solutions to meet IT challenges for any business. Because we strive to provide the best possible solution, we take a vendor-agnostic approach to data center consulting — whatever suggestions we make are always in your business's best interest.
In addition to providing quality equipment, our highly qualified specialists offer a range of data center services that keep your networks functioning at the highest possible level at all times, from cleaning and consulting to moves and relocations.
We also offer several solutions to address your most pressing needs, including: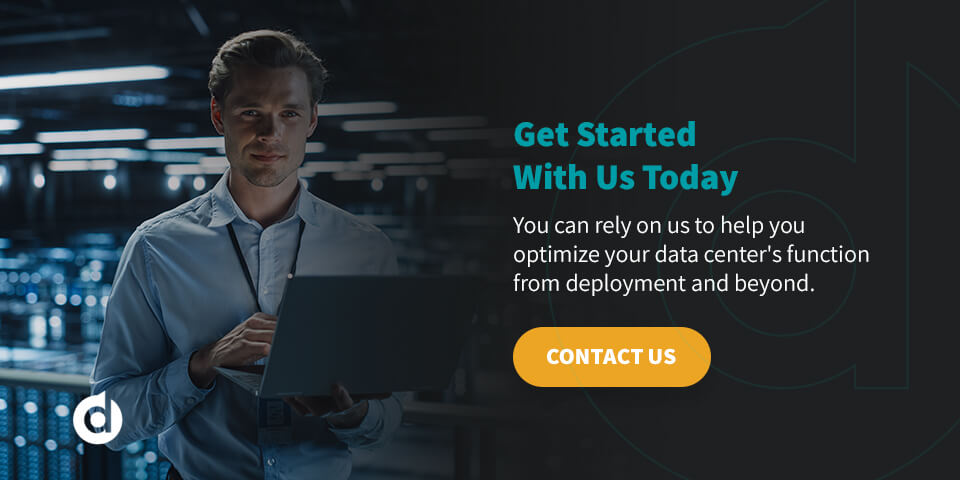 Get Started With Us Today
With more than 45 years of experience in the data industry, we understand the day-to-day challenges your IT team faces. You can rely on us to help you optimize your data center's function from deployment and beyond.
Contact us online or reach out to your nearest DataSpan representative today for more information about how we can assist you with your data center deployment.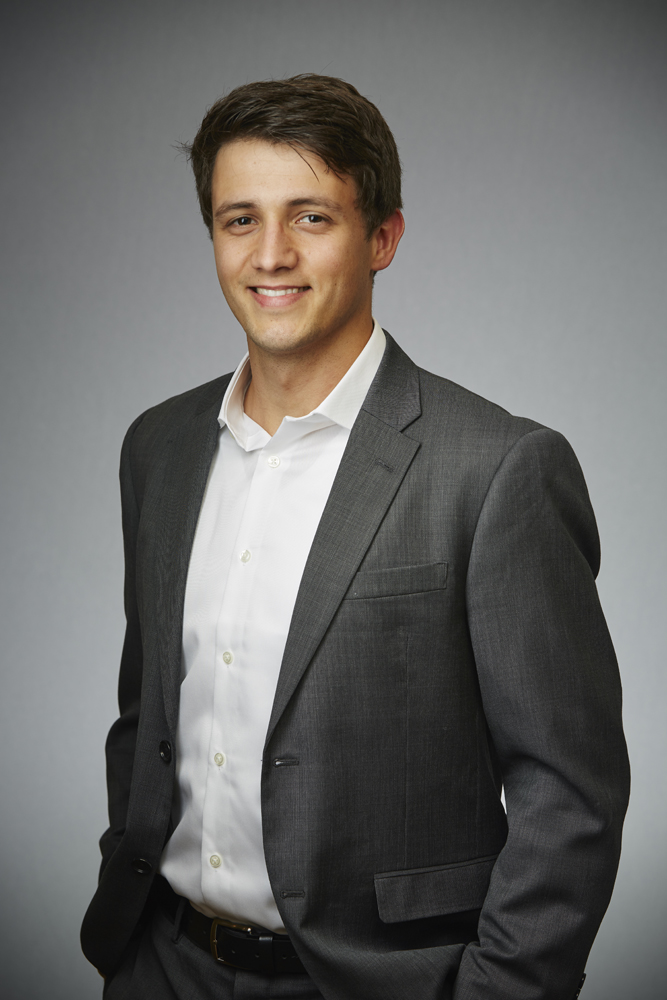 Alex von Hassler's long term focus is the continued testing, learning, and deployment of modern IT solutions. During his years as a DataSpan team member, his responsibilities grew from managing Salesforce CRM to improving system security, creating marketing initiatives, as well as providing continued support to the highly motivated and experienced team in an ever-changing industry. As DataSpan evolves to provide the best-fitting IT solutions to its customers, Alex von Hassler continues to hone his skills in the world of web-based ERP systems, security, and best customer engagement practices. Empowering such a dynamic team with the right tools provides him with enormous gratification.