Hybrid Cloud and Co-Location Services
We all know that hybrid automobiles draw upon a mixture of traditional internal combustion and energy-efficient battery power to save drivers money and give them a reliable form of transportation throughout variable conditions. Similarly, hybrid cloud storage solutions offer businesses a wide range of cost-effective options on how they store and access their data.
Despite the fact that hybrid cloud services are highly customizable, many business leaders are confused when it comes to which type of solution is best for their organization. That's understandable since hybrid cloud solutions are made up of individualized combinations of public cloud — or third-party IT options — and private cloud — or on premise architectures. And getting this combination right requires a great deal of expertise in the data storage and data center sphere.
Of course, this issue is why choosing to work with DataSpan is such a smart business choice when you're looking to design and implement hybrid cloud storage solutions that are right for your company. Since 1974, we've been supplying data centers with customized solutions that fully meet their data handling and storage needs.
The Facts on Hybrid Cloud Services
Undoubtedly, hybrid cloud services are here to stay. Moreover, they're growing in popularity. The 2021 Hybrid Cloud Report found that 93.7% of organizations surveyed believe the hybrid cloud is critical to meeting their organization's needs. Gartner forecasts that end-user spending on cloud services will increase by 23% in 2021.
However, these statistics don't help an individual business decide which services it specifically needs, nor do they highlight the need for companies to avoid cookie-cutter options when looking for the best possible data storage solution.
Based on our data center experience, we suggest that you carefully consider how much security, agility and scalability you want for your data. In addition, think about how much space you have in your present physical location, and don't forget to consider any compliance and regulation issues you need to meet when it comes to handling and storing sensitive client and business data.
What Are Co-Location Services?
To understand what co-location services are, it helps to first know the difference between the public cloud and the private cloud. In the public cloud, a service provider offers resources, such as enterprise-level infrastructure, development platforms or software programs, to companies and individuals over the internet. Public cloud resources can be available on a subscription basis, pay-per-use basis or for free.
While the public cloud is available to anyone, a private cloud is restricted to one client. Often, companies that need to adhere to strict regulatory requirements or compliance need to choose a private cloud over a public cloud. The company can enjoy the benefits of the public cloud while ensuring that its data is kept safe and secure.
A hybrid cloud service, as you might guess, merges public and private cloud services. Using a hybrid cloud service, a company can keep its most confidential data under secure lock and key. Meanwhile, it can take advantage of easily accessible software as a service (SaaS) programs available on the public cloud, such as word processing programs. Hybrid cloud services offer companies the best of both worlds.
Co-location services are slightly different from cloud services. With co-location, a company houses its own networking equipment and servers in a third-party, off-premise data center. The company retains control of the equipment but doesn't need to dedicate space on-site to storing it. Companies that work with co-location providers can also use the public and private cloud, as hybrid cloud services are often part of a co-location services solution.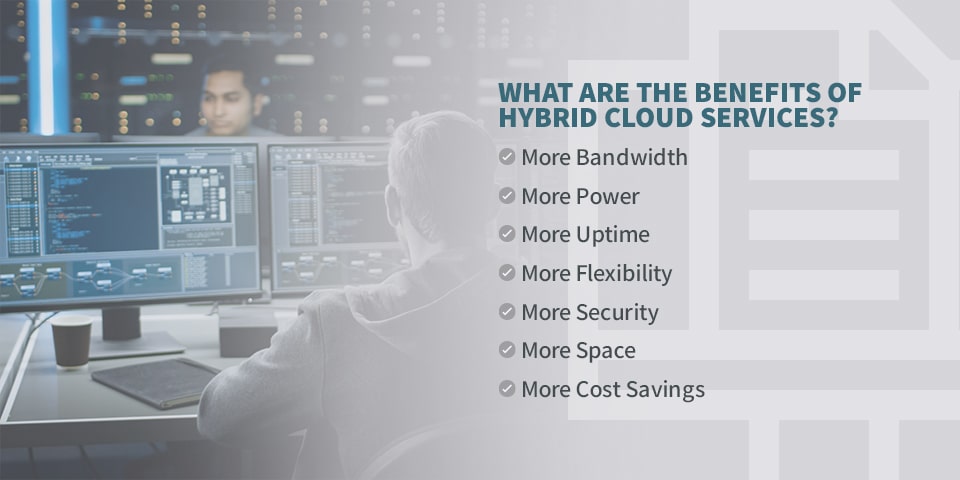 What Are the Benefits of Hybrid Cloud Services?
Co-location and hybrid cloud storage solutions offer multiple benefits to a wide range of companies. Those benefits include:
1. More Bandwidth
Using a combination of cloud and server-based storage solutions provides a company much more bandwidth than it would get from either one or the other. A company is also likely to have greater bandwidth from its servers if it locates them in an off-premise data center.
2. More Power
Companies that house all their data in servers on-site need to worry about power outages and the vast amounts of electricity those servers use. When a company uses hybrid services, storing some data in the cloud and some in a co-located server, the third-party data center is responsible for providing the power. Many data centers have backup power sources and contingency plans to ensure the power rarely ever goes out.
3. More Uptime
Your company needs access to its data around the clock. It also needs to keep that data available in the event of a natural or human-made disaster. Co-location providers typically situate their data centers in areas that are relatively safe from natural disasters and the damage they cause. The data center will also have top-of-the-line power sources and security to minimize or eliminate the risk of downtime.
4. More Flexibility
Adopting a hybrid cloud model provides a company greater flexibility. It can still take advantage of readily available public cloud services such as free or subscription-based software programs. It can choose to store some materials in a physical server and some materials in the cloud. With co-location and the hybrid cloud, a company can customize its data and storage solutions.
5. More Security
Co-location service providers often use physical means to keep their data centers secure, such as requiring identification and passcodes to enter the building or access the servers. Many have surveillance cameras installed and have hired security guards to keep a close eye on who comes and goes from the area. Additionally, using a hybrid cloud system provides a company access to a private cloud for its most confidential data.
6. More Space
We're talking about physical space here, as well as storage space. When a company uses a third-party data center and the cloud, it no longer needs to make room on-site for a server. If a company's storage needs increase, it can easily rent more space from the co-location provider.
7. More Cost Savings
Companies that work with co-location providers and use hybrid cloud services can see their expenses drop. It often costs less to store a server in a data center than to keep the server on-site. Data centers know they need to use a lot of power and are better equipped to negotiate with power companies for better rates. The same is true of bandwidth. A data center requires a strong, steady internet connection. It's more likely to get that powerful connection at a discounted rate and then pass on the savings to its clients.
Who Can Use Co-Location Services?
Are co-location and the hybrid cloud right for your company? The answer is likely yes, but there are a few ways to know for sure:
You need secure storage: The public cloud offers a convenient and affordable way to store information and to access certain platforms. But it's not very secure and might not meet regulatory requirements for certain industries, such as health care or the financial sector. It's often not secure enough for government agencies. A hybrid cloud model or co-location lets a company take advantage of the public cloud while providing a secure storage location for confidential data.
You want enterprise-level redundancy without the enterprise-level cost: Small and medium-sized businesses often have similar security needs as enterprise-level companies but without an enterprise-level budget. Using a co-location provider can give a smaller business with a smaller budget access to security features and redundancy that is usually only within reach of an enterprise-level budget.
You want to make the best use of your resources: Just because a company can afford to spend a lot on its own data center doesn't mean that shelling out the big bucks for a top-of-the-line server center is the best option. Enterprise-level companies can take advantage of the security and confidentiality offered by a co-location provider, as well as lower costs.
You want the option to scale: Your Company might just be getting started, but you may have big plans for the future. Adopting a hybrid cloud model gives your business room to grow. If you want to increase the number of servers you use or increase the amount of cloud storage you need, you can do so easily.
DataSpan is your Independent Advisor
Hybrid cloud solutions offer you the opportunity to design the right strategy for your computing power to optimize cost, speed, scalability and reliability. The key is to determine the right mix between on premise computing, co-location, managed services and cloud computing.
With many options in the market, DataSpan's experienced team can help.
Choose DataSpan for Trusted Hybrid Cloud Storage Advice
Over the last four decades, DataSpan has grown into one of the largest suppliers of data center equipment, services and solutions. During that time, we've remained vendor agnostic to give our clients the best advice possible to fit their individual needs. It's why more than half of the Fortune 1000 belong to our client list, and we'd be happy to offer the same superior level of service to your business.
Ready to learn more about hybrid cloud storage and how it can help your business? Contact us today.
Hybrid Cloud Services to Meet Your Needs
Leverage our Partner Network
Assessments of Computing Infrastructure
Document your requirements
Engage and find best potential Cloud, Colocation and Manage Services providers
Recommend go forward strategy
Benefits
Increased Reliability
Improved Scalability
Increased Security
Cost Efficient
Limiting Capital Expense
Independent advice
Time savings