Data Center Power Solutions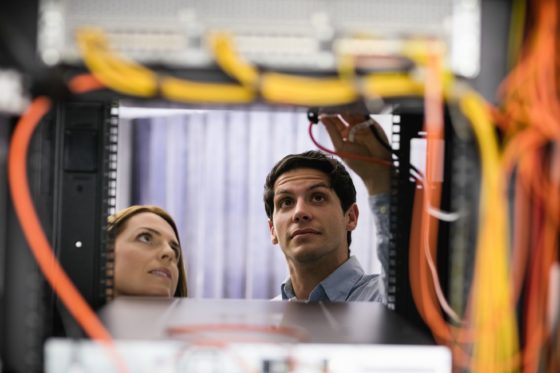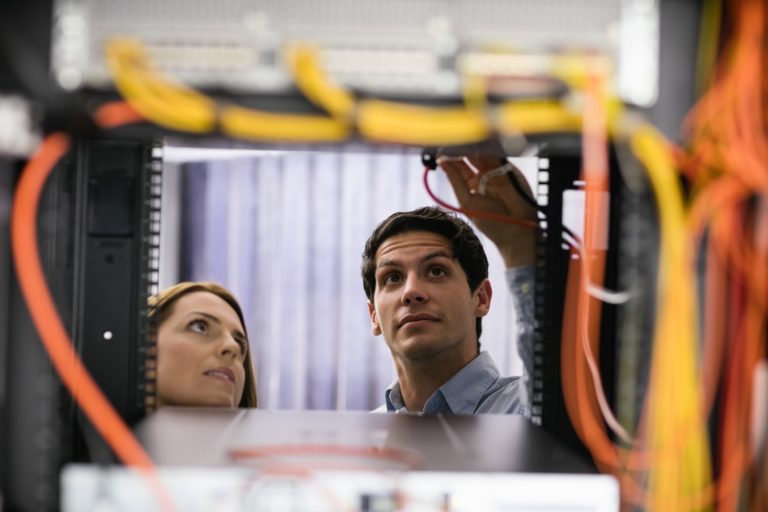 With no end in sight to the steady growth of smart devices, wearables, streaming services and the Internet of Things (IoT), today's modern data centers and server rooms are expected to remain up and running without any interruption to service or power. Yet with research showing that more than 50 percent of power interruptions are caused by problems with lead-acid batteries, including faults and end of discharge issues, there's simply no excuse for not having uninterruptible power systems installed in your data centers by a professional like Dataspan.
Data Center Power Distribution Systems
It should be clear that as your data center and IT requirements become ever more demanding and dynamic, your need for continuity and reliability in your power supply also becomes greater. And the only foolproof way to ensure that your power distribution system is fast, robust and fully up to the task at hand is to have it designed, installed and maintained by our professional power solution services.
As one of the largest distributors of data storage products, there's a reason we're able to count more than half of the Fortune 1000 among our clients: They trust us to supply secure, customized solutions that work. Plus, when it comes to data center power distribution systems, we have a keen understanding of both sensitive electronic equipment and uninterruptible power supplies.
Power Solutions
Let us deliver clean and reliable power to your critical IT load and network rooms to ensure uptime of mission critical data centers and IDF (Intermediate Distribution Frame) rooms.
DataSpan represents industry leading power manufacturers and brings the best option to our clients to meet their power protection goals. With our partners, we are able to provide top quality solutions from floor Data Center Rack PDUs (Power Distribution Unit), generators, and single phase to three phase UPS (Uninterruptable Power systems) systems and rack PDUs.
Why Choose DataSpan for Your Data Center Power Solutions?
With our field-tested and proven power solutions, you can get the peace of mind you're looking for by choosing DataSpan for your power source installation. In addition, with more than four decades of experience providing turnkey solutions to data centers, we can advise you on everything from scheduling maintenance to building scalability into your power supply.
We understand the demands you and your electronic equipment are expected to live up to. That's why having DataSpan on your side is such a prudent business choice. We comprehensively support your data center throughout every aspect of its operation.
To discover how DataSpan can customize a power solution to meet all your efficiency and reliability needs, contact us today.
What We Offer
DataSpan Services & Advantages
ATS-Automatic Transfer Switch

Battery Replacement Service

Comprehensive Protection Program

DCIM-Data Center Infrastructure Management Software

Power Generators

Rack PDU-Power Distribution Unit: Basic, Metered and Smart Options

OEM and Third Party Support Agreements

Power Monitoring and Reporting Software

Power Solution Design Services

UPS Rental Program

UPS Single and Three Phase
Benefits
Improved Reliability and Uptime
Lithium Ion Battery UPS
High Efficiency UPS Options
Remote Power Management
Cost reduction
Battery Recycling Available