Comprehensive Approach to the Data Center Environment
Zero Downtime Raised Flooring Services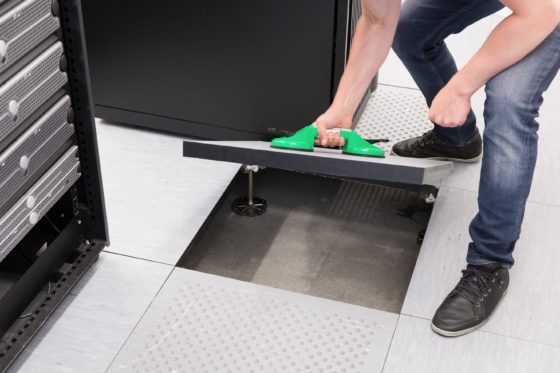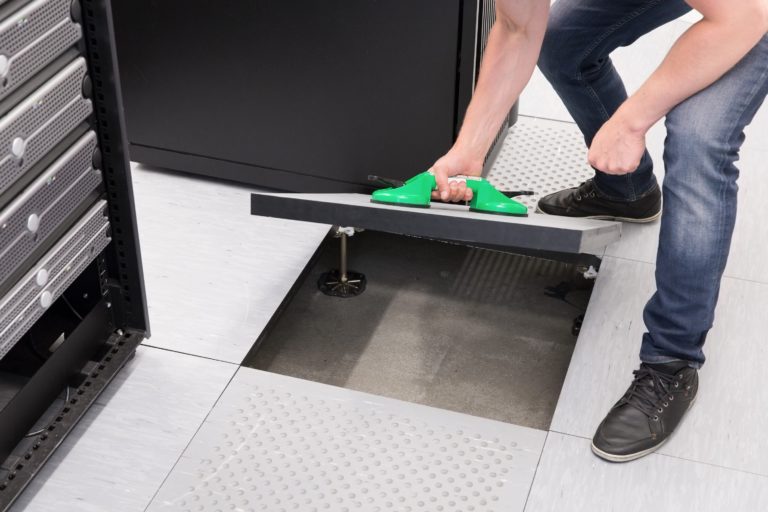 Our raised floor services are part of our comprehensive approach to servicing the whole data center environment. DataSpan ensures data center infrastructure optimization, lowering costs of operation, ensuring a safe work environment, and extending its useful life.
Raised flooring systems have an average lifespan of twenty years (as stated by manufacturers), but require ongoing maintenance and attention in order to avoid the weakening of the tiles, which could lead to a devastating partial or full-floor collapse.
We have been installing, strengthening, leveling, and replacing raised access flooring for over twenty-five years and offer a full range of flooring services to ensure you never have to worry about your flooring system again.
What We Offer
DataSpan Services & Advantages
Live Floor Replacement
New Installations
Tailored Solutions to Your Requirements
Competitive Pricing
Professional Inspections
Repairs, Strengthening & Leveling
Panel Sourcing, Replication, Recovering and Supply
Ramps & Steps
Data Center Cleaning and Sub Floor Sealing
Ventilation & Cable Entry Management
Support Framework
Benefits
Ensures a Safe Work Environment
Reduced Risk of Downtime
Reliable Infrastructure
Extended Data Center Life Cycle
Data Center Floor Replacement and Repair
A key aspect of data center maintenance is the flooring choice. Raised flooring offers numerous benefits to computer rooms, including cable management and effective airflow control. The multiple options for these floors and their maintenance requirements may seem daunting. However, learning more about these floors and how to choose the right type for your computer room will make the process easier and more productive.
Whether your data center needs a replacement floor or repairs to an existing raised floor, we have expert representatives and products to assist you with meeting your flooring needs.
What Is Raised Flooring?
Raised flooring for data centers is a series of solid, grated or perforated floor tiles that rest on a grid of pedestals to elevate the surface of the center above the ground. The arrangement of the types of tiles in the system can improve airflow in the room for lower cooling costs and more efficient operation. Raising the floor also provides a space for running cables below the walking level to reduce tripping hazards and improve the appearance of the room. Many computer rooms and data centers choose raised flooring as a standard option for its numerous benefits, which include easier access to cables, better room cooling, design flexibility, grounding capabilities and lower maintenance costs.
When running cables under a raised floor, the number and volume of discreet cables reduce. Additionally, this flooring type allows for the ability to consolidate ports and physical hardware. Since the cables run underfoot to their needed locations, the length of the above-floor jumper cables can shrink since they can connect to their subfloor counterparts directly below the location they need to access. For safety, subfloor cables and power stay separated from water supplies. More efficient cable management produces a more aesthetically pleasing facility without tripping hazards.
Having more access to the subfloor cables reduces maintenance time and effort. Additionally, repairs and replacements of sections of a raised floor can happen faster and without disruption to operations. Instead of replacing entire sections of the floor, installers can change out individual tiles that have worn. If the room needs rearranging to alter the layout of the hot and cold aisles, changing the floor tiles to match the new orientation of the room's cabinets is easier than replacing the whole floor. Workers can move vented tiles to the new cold aisle locations and set the solid tiles in the hot aisles. Few flooring options offer such flexibility for data rooms as raised floors.
Properly designed data centers should maintain temperatures between 68 and 74 degrees Fahrenheit throughout the space. Without proper arrangement of the cabinets to maximize airflow, this goal is near impossible. However, by integrating raised floors, the room can use hot and cold aisles that bring cooled air to the fronts of the cabinets for more efficient cooling. By arranging the room to use these aisles, the space requires less energy to maintain its ideal temperature, which reduces cooling and air conditioning maintenance costs.
However, this type of flooring does come with some vital considerations when selecting the floor tile materials, room design and layout. Additionally, raised floor systems have additional responsibilities for regular maintenance to keep them from failing.
During installation and maintenance, both the floor tiles and pedestals need attention. The pedestals used to construct the floor's support system have adjustable heights to ensure a perfectly level base for the data center's floor. The tiles themselves must also be perfectly flat and strong enough to support the weighty cabinets of expensive electronics. Regular maintenance includes verifying that the floor tiles remain intact and level and the pedestals provide adequate support and an even distribution of the weight of the data center's equipment.
With good design and care, a raised floor can last for 20 years or more, offering a long-term investment that will help keep electronics running more efficiently.
Important Considerations When Choosing Data Center Floor Tiles and Raised Floor Systems


You need to carefully select the appropriate raised floor data center design for your computer room to ensure you get the performance the space needs. Factors to consider when deciding on a new or replacement floor include the data center's layout and weight capacities required. Here is a more detailed overview of those points:
Data Center Layout
The main purposes of a raised floor in a data center are both to promote airflow and permit access to the cables.
Never have cabinets placed at angles on the tiles. Doing so doesn't distribute the weight loads appropriately, and can impede airflow as well as prevent access to underfloor cables. When arranging cabinets, always place them in aisles parallel to the lines of the floor tiles. Every tile in front of a cabinet should have all four sides visible for easy access to the space beneath. Allowing for access to the area under the raised floor can prevent computer flooring cabling issues and enable workers to readily fix these problems should they arise.
Finish Options for Data Center Floor Tiles
When you choose floor tiles from DataSpan, you get multiple material options. These materials include tiles with a wood or cement core and exterior finishes consisting of steel. To accommodate better airflow and cabinet cooling, we also offer perforated and grated floor tiles. If using hot and cold aisles, use perforated floor tiles on the computer floor cold aisles.
Airflow Control Ideas
When it comes to raised floor airflow management, you cannot rely only on grated floor tiles for cooling. Poorly arranged cabinets in a data center can cause an increase in temperature between each set of cabinets. Cabinet arrangement, blanking panels and sealed gaps all improve airflow. Better airflow also reduces the energy required for cooling the data center components.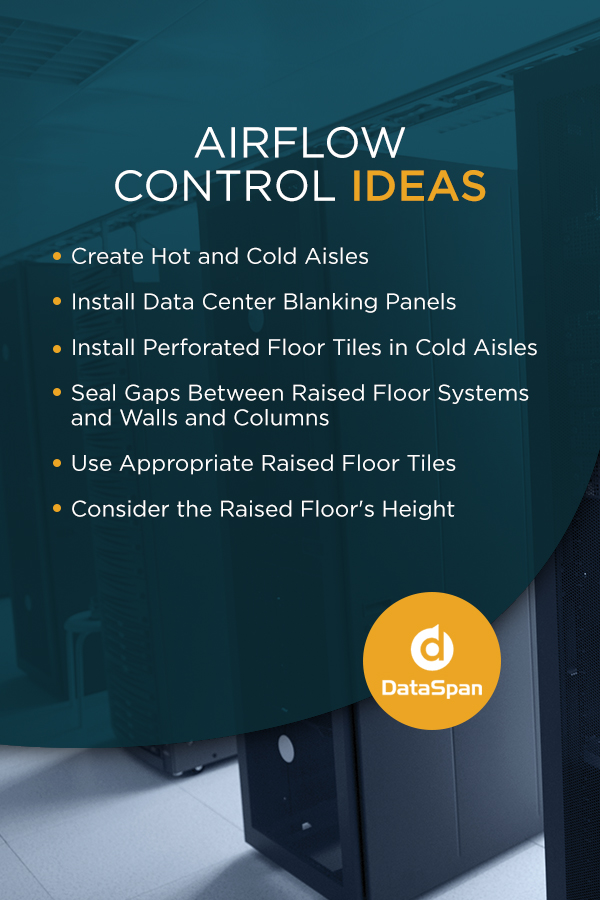 Explore what you can do to control airflow in your data center:
1. Create Hot and Cold Aisles
Creating hot and cold aisles in a data center while containing air allows for fan energy reduction by up to 25%. If you're rearranging an existing space to fix computer floor airflow issues, consult with the building's energy manager to see if the air conditioner's thermostat needs to be moved. Doing this avoids picking up the temperature from the hot aisles and running the air conditioner too often.
When arranging the cabinets, make sure the fronts are facing each other. The back doors of each cabinet should also face each other. This orientation creates hot aisles where the exhaust from the cabinets' rears meet. The cabinets' fronts should sit on the aisle with perforated floor tiles to draw in cooler air for better operation.
2. Install Data Center Blanking Panels
Integrating blanking panels stops undesired airflow between racks. These panels allow efficiency in the environment to maintain your hot and cold aisles and cut cooling costs.
Blanking panels make a significant difference in energy savings. One 12-inch blanking panel can lower energy costs by 1% to 2%. To maximize your savings and cooling efficiency, cover all empty spaces in racks with data center blanking panels. Also, trim cables to the proper length inside cabinets to prevent airflow problems.
3. Install Perforated Floor Tiles in Cold Aisles
Raised access floor tiles have vented and solid designs. These forms exist for specific places around the data room to create the most effective airflow that reduces energy requirements.
Use perforated floor tiles only in cold aisles and choose non-perforated tiles for hot aisles. Correct floor design should optimize airflow from the air that comes through perforated tiles on the data center cold aisles. The layout should also move heated air from the hot aisles up toward the ceiling. Putting perforated tiles into data center hot aisles will waste energy and make the room less efficient.
4. Seal Gaps Between Raised Floor Systems and Walls and Columns
When optimizing airflow for data centers, the area beneath the raised floor is critical to the performance of the flooring. Because the raised floor must allow cool air to move through the space, you must seal off any gaps between the floor, walls, columns and cable inlets.
In the area beneath the subfloor, keep the cables carefully organized. Loose cables present several problems for the data center. For instance, unorganized cables can tangle, increasing the time required for servicing them. Computer floor cabling issues often happen from using cables that are too long. The slack takes up space in the area below the raised floor. Excessive cable lengths in this spot impede airflow, reducing the room's cooling efficiency.
Be sure to also seal the concrete subfloor below the raised floor. Raw concrete can absorb humidity and cold from the air surrounding it, all while creating calcium carbonate dust. The combination of these factors leads to reduced cooling abilities from the flooring system as well as distributing particulates into your environment if it's not properly sealed.
5. Use Appropriate Raised Floor Tiles
While you should usually choose vented tiles for cold aisles, that is not the only decision to make. Other considerations include the choice of ventilation in the tile — perforated or grated — plus the use of directional or high-flow tiles.
To ensure the best airflow in your data center hot aisles and cold areas, the Department of Energy recommends consulting with a professional for an airflow assessment. A consultant can also help with placement, sizing and other design factors of your raised floor for a computer room or data center.
6. Consider the Raised Floor's Height
Researchers have studied how high a raised floor needs to be to provide optimum airflow. The study focused on floor heights from 12 to 60 inches in 6-inch increments. Results from the investigation showed choosing a standard raised floor height for a data center between 30 and 36 inches provided the most uniform airflow. This airflow made for ideal air circulation throughout the room above it.
Computer Room Raised Floor Benefits
The benefits of data floors come from their distinctive design, consisting of a series of tiles raised on platforms. By changing the supports, designers can adjust the vertical height above the subfloor to tailor the floor to the room's needs. The horizontal design relies on the tile arrangement and the types of tiles used. However, like choosing different pedestal heights, altering the tiles and their layout can also impact the floor's performance. Allowing this kind of customization enables a raised floor to benefit many types of data rooms.
Here are some of the benefits you'll enjoy by using a raised floor:
1. Even Distribution of Weight
Using a grid-pattern to arrange the pedestals and tiles opens the space under the data center while allowing uniform support of heavy computer equipment, servers and other devices. Because the tiles support heavy equipment, servicing them to replace worn tiles or support pedestals should be part of your plans for computer floor repairs and maintenance annually.
Regular servicing to include leveling floors caused by shifting pedestals will ensure the cabinets' weight remains evenly distributed and safely supported. Failure to correctly maintain the raised floor could lead to a collapse.
2. Easy Data Floor Cable Management
The space under a raised floor and the floor's tiled design allow easy access to almost any cables. These attributes make raised floor cable management simple and tidy. Instead of running cables overhead where they can dangle down into walkways or create an unsightly mess, keeping them under a raised floor hides them from view without impeding access. Under-floor cables also avoid facilitating the tripping hazard of cords on top of the surface.
Every data space must consider how the cables will run. With a raised floor, computer floor cable management has a ready solution.
3. Effective Computer Room Airflow Management
One of the best benefits of the raised floor is how it allows cooler air to flow under the cabinets and into the cool aisles between them. While researchers found floor heights of 30 inches or higher provided more uniform airflow, you don't need to have this much space between the raised floor and subfloor.


To calculate the best combination of space and cooling capacity, use the data center's size and heat requirements to determine the height of the raised floor.
4. Improved Computer Floor Flexibility
If you want to expand or change the computer room's layout, the raised floor tiles make the changes simple. Adding more cables or servers takes much less time with a raised floor because you can readily reach the space where the new equipment's cables need to run.
The raised floor also allows for flexibility when you need maintenance or service chores done. Data center repairs to the floor can occur with zero downtime to your facility when you work with DataSpan. The key to our efficient operations and floor tile changes or floor replacement is our ability to do replacements with no downtime or interruptions to your processes.
5. Accessible Service Outlets
Utilizing cable runs under a raised floor can allow power distribution in the subfloor for easier access.
6. Better Grounding
Grounding in a data center or computer room is simple with a raised access floor system. The pedestals connect to the building's ground, and if the grid attaches to these pedestals mechanically, only the supports need grounding to provide the necessary ground for the room. The National Institute of Building Sciences recommends grounding at least every other pedestal under a raised floor.
Additionally, compared to vinyl tile with antistatic properties, raised floors provide better grounding and a better location for cables. Since the lifespans of the two options are comparable, the better choice is the raised flooring.


Challenges of Maintaining Raised Floor Systems
While raised floor systems offer numerous benefits, you must still schedule regular maintenance, professional cleaning and repairs to avoid problems. Here are some issues you might encounter, so you know how to plan for them should they arise:
1. Structural Problems and Maintenance
Structural problems may occur from abuse or misuse of a raised flooring system. Failing to properly replace tiles after removing them or allowing the continued use of warped tiles could weaken the floor. Regular repairs to the floor can prevent collapse and damage to expensive electronic equipment. Neglecting repairs or replacements, along with worn or damaged sections, could result in the need to replace the entire floor prematurely.


2. Aging System
Raised access floors average 20 years of use with conscientious care, according to manufacturing standards. This long-lasting attribute makes raised floors desirable, but many installed around the turn of the century have reached the end of their useful lives.
If you have a raised access floor in your building that has been in place for almost that long, you could experience problems with worn components. If you have doubts, contact DataSpan for an assessment for service and repairs.
3. Energy Efficiency Issues
When misused, raised floor systems may cost money in cooling costs and create higher energy bills. However, if properly used in conjunction with appropriately arranged cold and hot aisles in a data room, these floors can save money. Using the equipment correctly and ensuring its efficiency will ensure you do not waste money from its application in a computer room.


Why Raised Floor Systems Remain the Industry Standard in Data Centers
Today, the industry continues to use raised floors despite the availability of alternatives. These floors last a long time when maintained properly. Raised access floors continue to offer several advantages over alternatives, making them a staple of data centers and other spaces where cable access and electronic cooling are vital. Here's why raised floors have maintained their staple status over the years:


1. They Offer Data Floor Flexibility and Scalability of Raised Floors
Raised access floors offer numerous designs for endless levels of customization. Choosing different pedestal heights can accommodate more air mass for cooling larger computer rooms. More durable tiles can hold more weight from heavy cabinets. Opting for vented tiles, including high-flow and directional versions, make airflow control simple with this type of flooring.
2. They Fix Data Center Cabling Issues
The major problem in many data centers is what to do with the cables supplying the systems. With raised access floors, this dilemma has a clean, simple solution. When running cables, though, keeping them compact inside the floor is crucial to avoiding reduced airflow. In government buildings, the cables must pass through a conduit under raised floors. Additionally, no lines for emergency lighting can run under the floor.
Though out of sight, cables remain close enough to allow repairs or replacements. Lifting a tile from the floor gives a worker quick access to anything underneath.
Keep in mind that despite the easy access to these spaces, when a floor tile is opened it can cause metal particulates, dust and other debris to accumulate in the subfloor.  Over time, these particulates will distribute throughout your environment.  It's critical to schedule regular cleanings with a professional data center environmental cleaning company.  Like our zero downtime maintenance services for raised floors, we also work around your schedule for data center cleaning. Even if you require us to come on holidays, nights or weekends, we will be there to keep your data room free of dust — even the subfloor.
3. They Solve Data Center Airflow Issues
Vented panels in raised floors allow cool air to circulate throughout the room. Due to the high heat output of some servers and their low tolerance for operating in the heat, keeping the space cool preserves the equipment and makes it more efficient.
A raised access floor's effectiveness in cooling a data center depends on its design and the room's arrangement. Consulting with DataSpan can make identifying the ideal orientation for vents and cold aisles in the room simpler. Additionally, getting expert advice ensures the system operates at its peak efficiency without causing wasted energy.
4. They Have a Versatile Appearance
Though most computer rooms have a utilitarian appearance, the type of flooring used can still enhance or detract from the room's aesthetic and usefulness.
The appearance of raised floors depends on the material, finish and coverings, while the cores may have a steel or concrete structure for strength. Carpet tiles should never be used in a data center.
Another way that raised access floors make data centers look better overlaps with these surfaces' ability to improve productivity.
Using raised floors that keep cables close at hand but out of sight protects a data room's aesthetic while upholding an undistracted workflow.


Get Solutions for Your Floor Replacement Needs
Choose our experts at DataSpan as your source for computer floor maintenance needs, such as flooring repairs or replacements. Additionally, we offer a multitude of services for your data center raised floor. These include:
Conducting professional inspections
Leveling
Strengthening
Adding ramps
Floor cleaning
Sealing subfloors
Reinforcing framework support
You can also get any of these services at competitive prices.
Because we recognize every data center has specific needs, we will customize your flooring and the services provided to your particular computer room. If you need maintenance, repairs or cleaning, let us know. To get the data flooring solutions your center needs, connect with a local representative, or contact us directly at DataSpan.