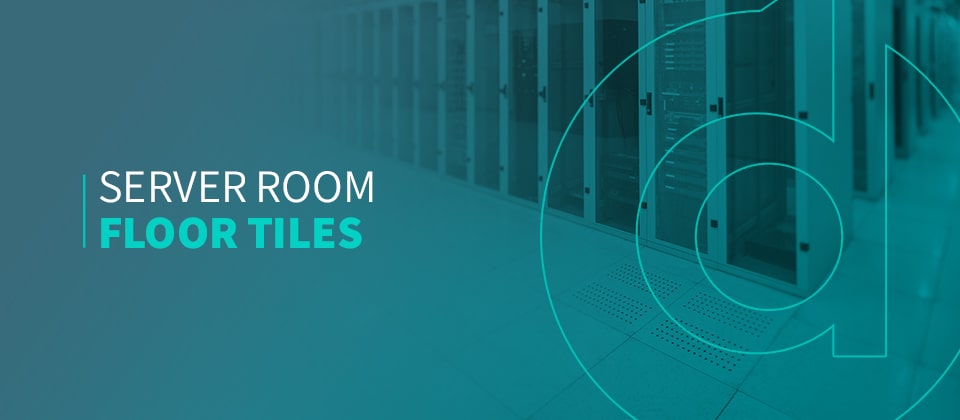 While many companies use alternative computer room layouts and designs that you might be familiar with, raised floor systems provide more benefits. Raised access floor systems offer services that make them a more efficient, economical choice for the configuration of today's data centers and computer rooms.
What Is a Raised Floor System?
A raised floor system — sometimes referred to as a computer access flooring system — is a method of elevating a room's flooring structure above its solid substrate, which often consists of concrete. The raised floor system uses a grid structure, pedestals and raised floor tiles, which creates a gap above the substrate.
Pedestals support the grid of a raised floor system, which you can adjust vertically to attain the desired space above the subfloor. In addition, depending on the data center's specific requirements, you can affix the pedestal to the substrate using several mechanical or adhesive options.
Benefits of a Raised Floor System
Raised floor systems have various benefits that lead to companies choosing this model over other options. Overall, data center-raised floors add to your computer room's functionality and make it easier for employees to maintain servers and their features. Some specific key advantages that lead people to use raised floor models include:
Manage cables: From eliminating tripping hazards to providing an alternative to heat exposure in hot aisles, raised floors are an ideal way of managing the vast networks of cables that come along with rows and rows of servers and related computer equipment. Plus, having all your wires concealed below your raised floor results in a neat and tidy arrangement of racks and aisles.
Upgrade flexibility: The ability to quickly reconfigure and/or replace raised floor tiles means that when it's time to add or upgrade equipment, you can do so with full access to the underfloor space. Whether you're adding grated tiles or floor diffusers, raised floor systems are a great way to support your data center now and throughout all of its future upgrades.
Increase airflow and cooling efficiency: One of the most important benefits of raised floor systems for data centers is their support of more efficient airflow management. Since warm air rises, many overhead cooling systems prove to be ineffective. In contrast, raised floors enable the efficient delivery of cool air from beneath equipment and the establishment of hot- and cold-aisle arrangements.
Ground your servers: Because servers conduct and use electricity, server rooms often have higher levels of static electricity. You can use a raised floor model to dissipate static electricity to best protect your machines through specially designed flooring tiles.
Reduce layout complexity: With a server room raised floor, companies have easy access to underfoot space to manage and maintain cables and other server parts that can get in the way and make layouts challenging to navigate. Raised floor models keep extraneous parts out of the way so employees can safely and efficiently navigate rooms without the risk of tripping.
Support larger servers: If you host large server loads, raised floor systems can safely and efficiently store these. Raised floors are compatible with many strong tile materials, allowing you to customize your raised floors to fit your server room needs.
Data Center Floor Tile Refurbishing
If you are considering upgrading and refurbishing your raised floors, you have many options to create a data center that optimizes organization and functionality. With renovating your raised floors, you can swap out less efficient features with new techniques and opportunities that can enhance server performance and employee experience in your server rooms.
Choose Materials and Features
As you refurbish your server room, consider which tile type you'll use to find one that best fits the room's needs. You can find several options for raised tiled server room floors, including:
Concrete: Concrete is a versatile material that can provide many functions for your server room, especially for a raised floor model. If you need a material that can dispel server heat and static electricity, concrete can be a great option. Further, concrete raised computer room floors are easy to clean and long lasting.
Cement: For a server room with heavier server loads, you may want to consider a stronger material, like cement, which can provide stable support for servers. Cement tiles also allow for a smooth surface, ensuring reliable floors for rolling server loads.
Steel: Like cement, steel can help reinforce server room floor tiles to create strong, secure and reliable floors to support heavier server loads. Steel tiles include wells below the floors to disperse tile weight, enabling them to support heavy servers.
Vinyl and rubber: You can consider vinyl or rubber as an alternative to concrete. Like concrete, vinyl and rubber tiles are great for dissipating static electricity so you can best protect your servers from it. Vinyl tiles can also conduct electricity if you need a floor to hold electricity instead of dispelling it.
In addition to selecting the most suitable material, you can also add other features to your server room and raised floors. One option might be to consider installing anti-static carpets on the raised flooring, which can help dissipate static electricity flowing throughout the server room. There are also perforated and grated panel designs that are extremely useful in facilitating the flow of air — and as a result, cooling. Refurbishing your server room gives you the freedom to add beneficial features that further enhance server function.
Data Center Floor Replacement Services
A data center's floor design can hinder or enhance workplace performance. Your floor materials, layout and supporting framework all play crucial roles in your facility's productivity and efficiency. A raised floor system is versatile, energy-efficient and enduring, and it's quickly becoming the industry standard.
At DataSpan, we help you identify your server floor material and layout needs to improve productive capacity and reduce barriers that slow down maintenance. For example, you might wish to reduce cable disorganization, establish alternating hot- and cold-aisle arrangements or consolidate hardware and ports for convenient access and reduced trip hazards. Or, perhaps your server room could benefit from all of the above.
Whatever your needs are, we provide custom solutions at DataSpan. We help data centers pinpoint their floor replacement or repair needs and accomplish their goals. We are organizing experts, enhancing efficiency and reducing workplace hazards for data centers by customizing their server room flooring to meet their unique goals.
In the past, we have helped data centers fix cabling, airflow and aesthetic issues by:
Selecting appropriate tile materials and installing raised floor systems.
Leveling, strengthening and cleaning server room floors.
Adding ramps for easier accessibility to hardware.
Reinforcing flooring framework.
Sealing subfloors.
Creating hot and cold aisles.
Installing blanking panels.
Sealing gaps between floors, walls, columns and cable inlets.
We have multiple tile flooring material options, including wood, cement, concrete, steel, vinyl and rubber — all of which serve whatever your unique flooring needs might be, from airflow and cooling to conductivity and static electricity dissipation. We also offer perforated and grated floor tiles.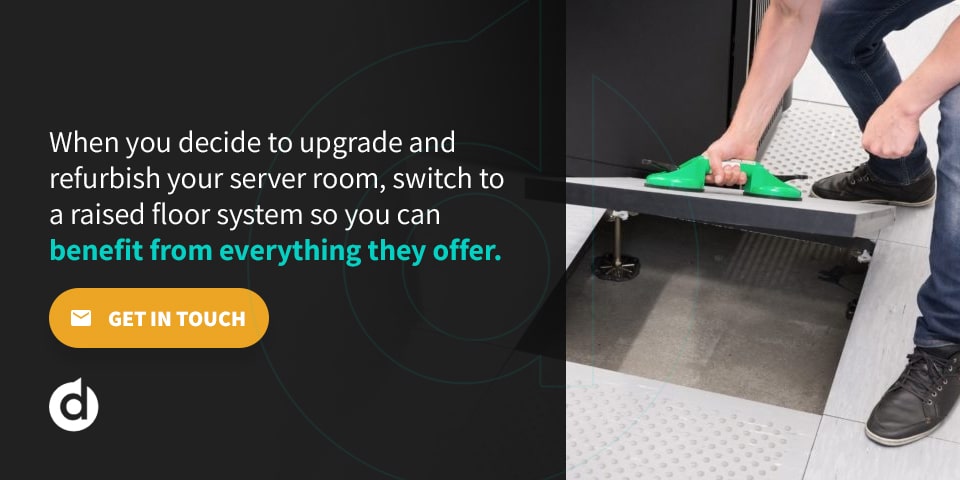 Trust DataSpan for All the Latest Data Management Technology Solutions
When you decide to upgrade and refurbish your server room, switch to a raised floor system so you can benefit from everything they offer. From more efficient cooling to better organization, raised flooring provides improvements across many areas in your server room.
At DataSpan, we have the products, services and expertise to fully meet your data center's technological needs. There's a reason our pleased client list includes more than half of the Fortune 1000. To learn more about our wide range of IT solutions, find your nearest rep or contact us today.