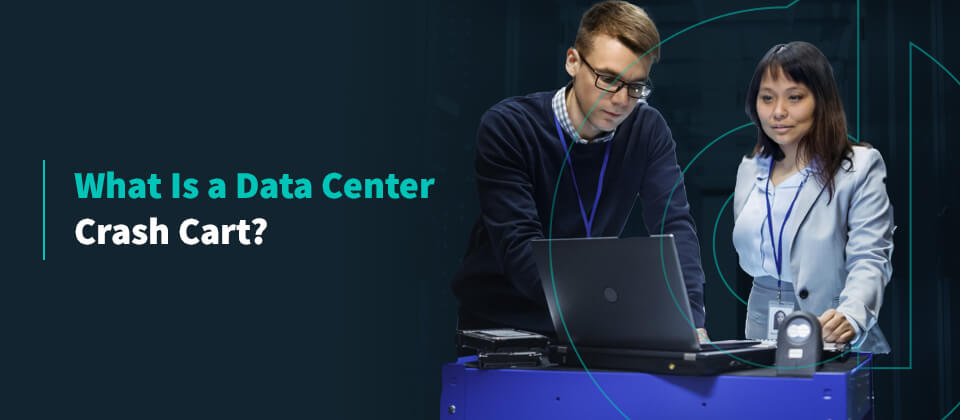 Businesses rely on data centers to keep their data safe in disaster situations. So when valuable systems fail, you need a quick, easy way to resuscitate them and prevent data loss. A data center crash cart is a valuable tool for storing and transporting the equipment technicians need to make fast repairs.
What Is a Crash Cart?
In healthcare settings, a crash cart is a rolling set of drawers and trays that holds medicine and equipment for providing emergency life support.
A data center crash cart is a similar concept in data center applications. Computer crash carts are maneuverable workstations that allow IT technicians to quickly move a computer next to a failing system to establish a direct connection. The main goal of a crash cart intervention is to bring the failing device back to a point where remote access becomes possible.
Usually, a data center crash cart holds the following equipment:
Laptop computer or KVM setup
Multidirectional wheels or casters
Storage drawers or compartments
Technicians might also carry important documents or other devices on the carts for easy access.
Data Center Crash Cart Features
If you're looking to purchase a data center crash cart, you want to ensure you have the essential equipment: a computer, the appropriate cables, storage space and omnidirectional wheels. However, you can also customize your cart to create the best solution for your data technicians.
Additional features can include:
Lockable storage cabinets: A secure place to store important documents and equipment is essential for a crash cart, especially if you use a laptop as your main point of connection.
Cable management: A computer room crash cart will contain a variety of wires to connect to all the different computers and servers in your data center. Effective wire management on the cart is crucial to ensure technicians can establish quick connections with failing systems.
Removable hard disk drive: Equipping your cart with a hard disk drive allows you to boot the malfunctioning device from your laptop or KVM setup if access is more difficult than expected.
Backup media: Storing backup media like external drives or even tape cartridges can save you money and time if a failing system is beyond the point of saving. Your technician can easily connect the backup device to the server or computer and copy the files from the cart so you can avoid losing valuable information.
Spacious surface: When systems are functioning normally, you can use a crash cart as a mobile workstation for ordinary functions like running diagnostics, performing system updates or installing software applications.
Ergonomic design: The ideal crash cart is height-adjustable, allowing technicians to sit or stand while working. You can also add other ergonomic features like a keyboard arm and mouse tray to increase user comfort. Some carts will also come with an attached seat for added comfort.
Crash Carts vs. KVM Switches
A KVM switch is a device that connects a single hardware setup to two or more computers, allowing users to switch between systems quickly. KVM stands for keyboard, video (monitor) and mouse, which are the three components of the setup. The number of computers a KVM switch can connect to depends on the number of ports. There are also several different subtypes of KVM switches, each of which is beneficial for various applications.
Crash trays — or KVM trays — are similar to mobile crash carts in that they allow technicians to connect to ailing systems. KVM trays fit right into the U of a rack, so they require less space than a full cart.
However, for systems beyond the point of remote access, a crash cart is the best option. Technicians can wheel the cart up to the failing system and use the equipment on the cart to form a manual connection, which will allow them to revive it so they can access it remotely.
The Importance of Data Center Crash Carts
A slow response to a system failure can cost a company thousands of dollars per minute. Data technicians need easy, reliable ways to connect to failing systems in emergencies to resolve them. The mobility of a crash cart combined with its storage capabilities makes it a valuable tool for any data center.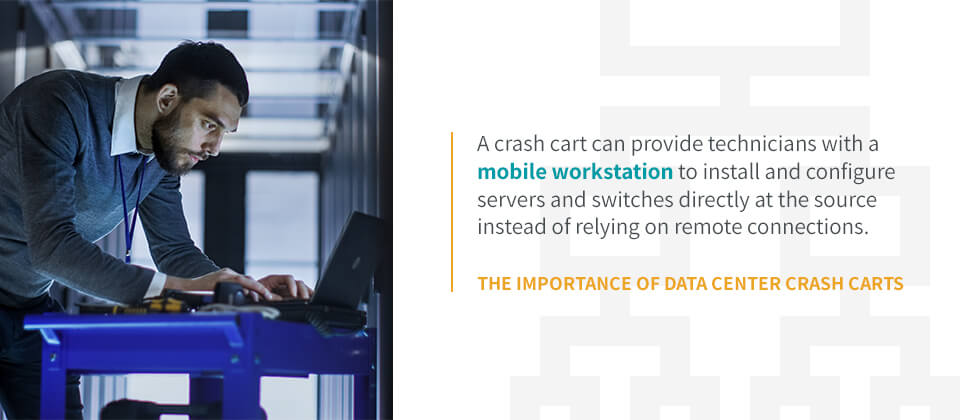 In addition to providing life support to failing systems, crash carts serve a variety of other uses. For example, a cart can provide technicians with a mobile workstation to install and configure servers and switches directly at the source instead of relying on remote connections.
Many colocation centers offer crash cart services to their customers as an add-on. This is an advantageous option because if remote access to ailing equipment fails at the server level, your data center's staff can solve the issue for you.
DataSpan's Products and Services
As our world becomes increasingly interconnected thanks to the advent of smart devices and the Internet of Things (IoT), data centers continue to evolve as well. The modern data center is more complex than ever before, but data can move across servers at astonishing speeds with proper networking.
Using high-quality technical furniture like computer room crash carts can improve user experience and create more reliable systems. We can maximize operator comfort with modular configurations for hardware and monitor integration.
Working with a data center expert like DataSpan can help you get the most out of your data center by providing valuable advice and the best products and services for your business. Our vendor-agnostic approach means you can rely on us to provide unbiased data center advice. We only suggest solutions that we believe are in your business's best interest, regardless of the vendor.
We offer a comprehensive suite of networking products and services to minimize downtime and keep your networks running smoothly. If you need a more specialized solution, we can customize our approach to meet your company's technological needs.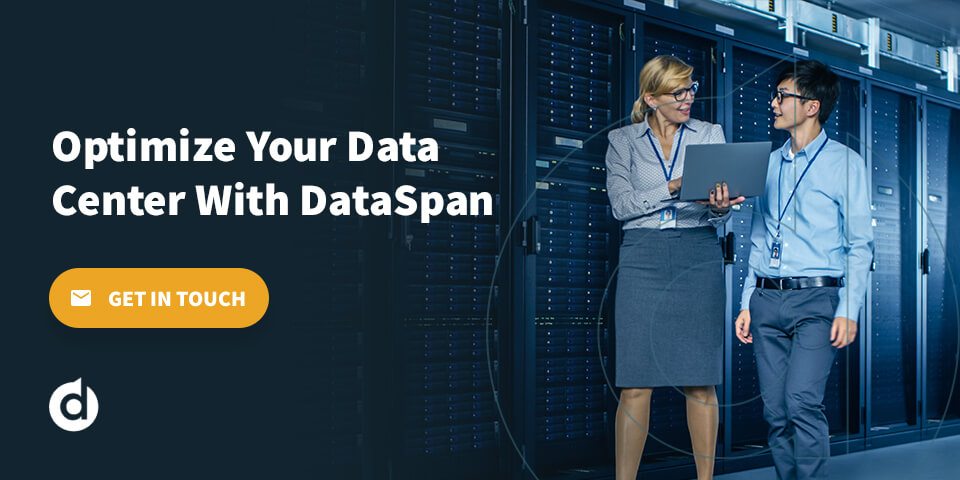 Optimize Your Data Center With DataSpan
At DataSpan, we create customized technology solutions to make your data operation smoother and more secure. Our core solutions include data center IT services, storage and physical IT infrastructure. When you partner with us, we focus on the challenges your business faces in these areas and resolve them to improve how you manage your data. Whatever your technological needs may be, we'll meet you where you are and push your data strategy to the next level.
See why more than half of the Fortune 1000 companies trust us to provide effective data center solutions. Connect with your local DataSpan representative today for more information about our products and services.