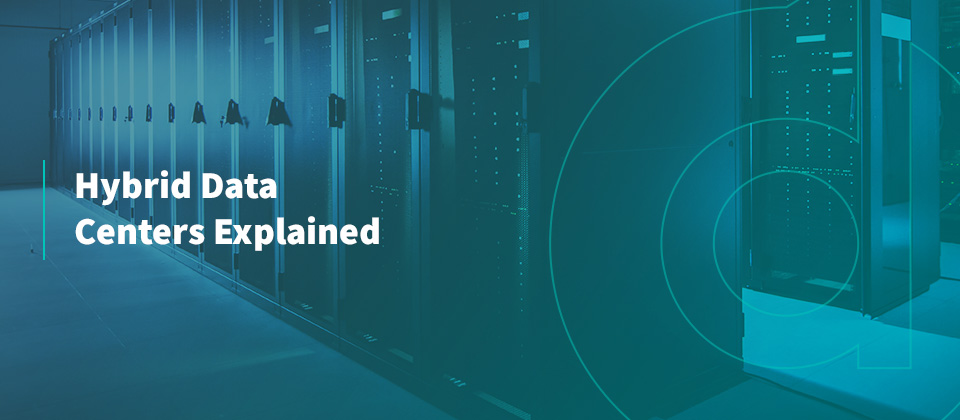 Hybrid Data Centers Explained
While the traditional on-premises data center still has its benefits, many companies are discovering that more advanced data center solutions are necessary for staying competitive in today's ever-evolving tech landscape. The hybrid data center combines the best of cloud and physical infrastructure in one innovative framework.
This post will explain what hybrid data centers are, which companies can benefit from this model and how to properly implement it in your organization.
What Is a Hybrid Data Center?
A hybrid data center is an operating environment that combines physical infrastructure with multicloud environments. This architecture lets you share data and applications between these infrastructures, allowing you to move resources between environments as your needs change.
The main components of a hybrid data center include:
Public cloud: You buy public cloud infrastructure from cloud service providers (CSPs) like Microsoft Azure and Amazon Web Services, who store your data on shared public servers.
Private cloud: Your company owns private cloud resources, so you do not share this infrastructure with other entities. You may run serverless applications in these environments, which eliminates the need to maintain additional hardware.
Legacy hardware: Your on-premises data center or server room holds the physical infrastructure that hosts your private cloud and other applications.
Workloads: Hybrid data centers spread workloads across your legacy infrastructure and cloud environments to create a more agile computing framework.
Unified management: Hybrid data centers are made up of many moving parts, so you need a centralized management solution to secure and coordinate everything.
Hybrid Data Center vs. Multicloud Environment
While hybrid cloud architecture is often confused with multicloud environments, they're two separate concepts. A hybrid cloud consolidates multiple clouds and on-premises infrastructure into one unified environment — essentially, every component is part of the same software stack, and you can move workloads between systems as needed.
In contrast, a multicloud environment does not include any on-premises or private cloud infrastructure. Multicloud architecture consists of two or more disparate public clouds for different workloads. These clouds do not overlap.
Who Should Use a Hybrid Data Center?
Hybrid data center architecture is ideal for companies that often experience significant fluctuations in server demand. For example, if demand increases during the academic year, you can quickly scale your cloud infrastructure to account for this change.
Additionally, the cloud element makes hybrid data centers advantageous for companies that maintain a large remote or hybrid workforce. On-premises infrastructure often produces a noticeable lag when accessed remotely, so moving the necessary applications and resources to your cloud environment can make them more accessible to your remote employees.
That said, any organization can benefit from a hybrid environment as long as they implement it properly. Working with an IT consulting firm can help you choose the right infrastructure and configuration for your needs.
What Are the Advantages of a Hybrid Data Center?
Implementing a hybrid data center can help companies boost efficiency and performance. Here are some of the biggest hybrid data center benefits:
Security: Hybrid data centers combine the physical security of the traditional data center with cloud-based security tools. For example, hybrid data centers are cloud-agnostic, so you can leverage advanced security technologies like single sign-on (SSO) and zero-trust architecture.
Agility and flexibility: The environment provides access to dynamic infrastructure, which allows you to scale and shift resources as needed to adapt to changes in your business.
Reduced costs: Maintaining large on-premises data centers becomes costly over time as you add more equipment. However, because hybrid data centers allow you to move workloads to the cloud, you can cut some of the overhead and maintenance costs associated with traditional hardware.
Sustainability: While little research has been done on hybrid data centers, recent studies have shown that moving workloads to the cloud can significantly reduce a company's carbon footprint.
Business continuity: Using multiple clouds in addition to legacy infrastructure creates redundancy, which can help you keep mission-critical workloads running in the event of unexpected downtime.
Compliance: Many legal regulations dictate where organizations must store their data — for example, privacy laws require that health care organizations store electronic personal health information in a secured system for a specified period. Hybrid data centers allow organizations to maintain sensitive data in secure private systems while simultaneously operating other workloads in the cloud.
Tips for Implementing Hybrid Data Centers
While this new approach to IT infrastructure has many benefits, it's important to remember that you need to properly plan out the implementation process before you begin moving any applications. As with any major technology decision, the failure to prepare for such a shift can negatively impact your business performance.
Here are some tips to keep in mind if you're considering moving to a hybrid architecture:
Keep security simple: The more complex your data center environment is, the simpler your security software should be. It may seem counter-intuitive, but complicated security tools combined with a hybrid cloud architecture can create vulnerabilities by limiting their own performance.
Adopt a shared responsibility model: In a shared responsibility model, your cloud provider is responsible for monitoring and resolving security threats associated with the cloud architecture. This arrangement means you are only responsible for protecting your legacy infrastructure and your data.
Choose the right CSP: Look for a CSP that follows key security standards and industry regulations, including ISO 27001, Global Data Protection Regulation (GDPR) and the Health Insurance Portability and Accountability Act (HIPAA).
Invest in networking: Strong network connections are essential for successful hybrid cloud implementation. Make sure your network meets the uptime requirements your cloud provider specifies in their service-level agreement (SLA).
Consulting with a data center expert is one of the best ways to ensure your implementation plan makes sense for your organization. Your consultant can help you decide what technologies will work with your existing infrastructure, which can help you keep costs low while transitioning to your new system.
They can also help you create an implementation roadmap that defines key milestones so you can track progress and proactively limit delays.
Learn More About DataSpan's Hybrid Data Center Services
At DataSpan, we're dedicated to helping businesses like yours get the most out of their data center architecture. We carry data center products from a wide range of vendors, which enables us to build the most effective custom solutions for each customer.
That includes hybrid data centers. If you believe your business would benefit from implementing a hybrid data center environment, we can help you design a system that makes sense for your unique needs.
Contact us online or reach out to your local DataSpan rep for more information about our hybrid data center services. We'll be in touch shortly.