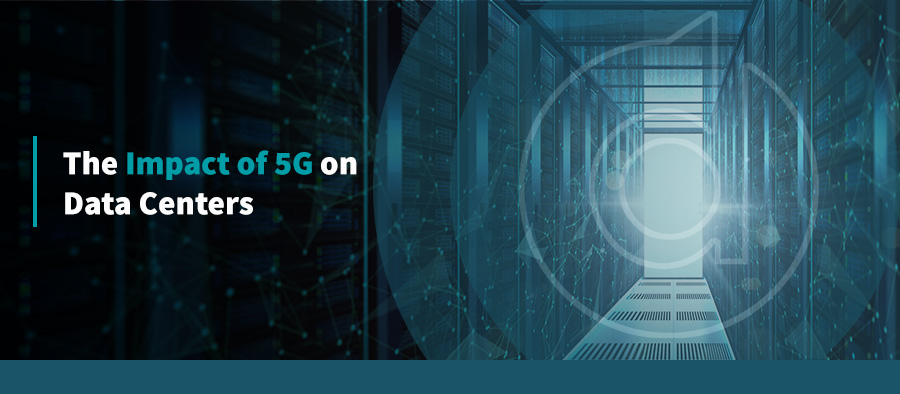 As the 5G ecosystem expands and evolves, data centers must adjust to face new challenges and meet needs effectively. While advanced technology increases performance, connectivity and mobility, it's important to understand the impact of 5G on data centers.
Understanding the relationship between 5G and data centers allows companies to adjust to shifting technologies and keep up with competing organizations.
How Data Centers Are Affected by 5G
5G directly impacts the following factors in the wireless landscape:
Demands on wired infrastructures
Storage requirements
Computing capacity demands
Internet of things (IoT) connectivity
Edge computing demands
IoT device capabilities depend on 5G networks, and adjusting to the new landscape allows data centers to support IoT capabilities. However, the increasing use of 5G results in more information and processes passing through data centers, so it's essential to ensure your technology and equipment can store, protect and maintain higher data volumes.
The Impact of 5G on Data Centers
Data centers must adjust their infrastructure, processes, technology and equipment to keep up with 5G expansion. A data center may experience benefits and face new challenges due to the following factors associated with 5G:
Adjusting to Edge Computing and Cloud Services
Where companies previously relied on virtual servers and containers, they must shift to edge computing and cloud services to keep up with the competition and changing technologies. Increasing life cycle upgrade processes helps data centers make this shift. It's important to replace less-advanced networking hardware such as routers and switches with 5G-capable hardware.
5G can affect existing technologies, transforming software-defined networking and network virtualization functions. A data center should ensure its current technologies can handle the increased workload 5G inflicts on its resources and make any necessary replacements.
Supporting New Connections and Devices
Since data centers must now process more information than ever before, speed is a crucial factor in supporting new connections and devices. Data center speeds must increase as 5G expands its capabilities. 40G speeds have increased to 100G speeds, and 400G ethernet technologies are emerging. Due to this increase, data centers may need to implement the following:
Network upgrades
Switching and router changes
Updated infrastructure
New architecture approaches
Increasing Storage
5G capabilities also expand the need for storage. Implementing the right storage products and solutions can help a data center prepare for company growth and 5G advancement. Quality storage solutions keep data safe and accessible.
Shifting to a Strong Fiber Network
A strong fiber network enables a data center to accommodate increased information and data speeds, providing the high performance necessary to support data rates at and above 50G.
Another benefit of fiber networks is that they weigh less and are smaller than copper cables, and they contain built-in interference immunity.
Raising Power and Cooling Capabilities
To support 5G networks, connections and devices, data centers must adopt more computing equipment. This increase in equipment demand also increases the need for power and cooling capabilities.
Data centers need more cooling equipment to maintain proper temperatures as they generate more power. Working with a professional data center cooling company will allow you to implement adequate cooling equipment that scales for your company's growth and future needs. A professional cooling company can also help you increase efficiency to reduce overhead costs.
Increasing Security
5G introduces the potential for security risks by introducing new vulnerabilities. Data centers can respond to and prepare for these risks by developing solutions to isolate network resources and protect data from disruptions and leaks. Preparing for the following risks helps data centers increase security:
Faulty or malicious programs or components: Poor manufacturing processes, faulty designs, inadequate maintenance procedures, counterfeit components, and malicious hardware and software present increased vulnerabilities. These risks can compromise data integrity, availability and confidentiality. Data centers must implement only trusted components to prevent exposing communications infrastructure to poorly developed or malicious hardware and software.
Architecture and design: Since organizations can design their own 5G networks, preventing manipulation and disruption is crucial. Data centers must ensure they properly design, deploy, configure and maintain their 5G networks and equipment.
Equipment limitations: Some companies produce their technologies with proprietary interfaces, limiting customers' equipment options. The industry develops standards to increase interoperability, but proprietary interfaces can hinder compatibility between various devices and limit a company's capacity to compete with others in the 5G landscape.
Legacy vulnerabilities: Some organizations build upon previous infrastructure, integrating 5G networks with 4G LTE networks. This integration can present accidental or malicious legacy vulnerabilities affecting 5G networks and equipment.
Understanding Open RAN Standards
Global network operators and key original equipment manufacturer (OEM) vendors use Open Radio Access Network (RAN) standards. Newer, more advanced networking vendors use 5G technologies with Open RAN standards, attracting more business and leaving traditional vendors with fewer customers.
Increased familiarization with Open RAN standards can help data centers compete with other organizations and remain relevant in the 5G marketplace. Data centers should hire experienced external collaborators, and internal staff should receive ongoing training and certifications to ensure proper Open RAN implementation.
Increasing Convergence Between Small and Large Data Centers
Seamless data transfer is increasingly important as 5G expands. Hyperlocal and larger data centers will need to increase their architectural and technological convergence and colocation between each other to ensure the following:
Smooth data transfer
Effortless communication
Low latency
How DataSpan Can Help
Preparing for 5G expansion and advancement is crucial for keeping up with the competition and remaining relevant in the 5G landscape. DataSpan offers customized technology solutions to meet each data center's specific needs. We deliver the following data center IT services and IT physical infrastructure solutions:
Racks and enclosures
Servers and server management solutions
Cooling solutions
Containment and airflow products
Structured cabling
Tape and recertified tape
Raised floor systems
Power solutions
Technical furniture
DCIM
Networking products and services
Primary, secondary, backup and archive storage products
Hardware maintenance support and services
Cloud and colocation solutions
Prepare for 5G With DataSpan's Innovative Solutions
As the 5G landscape grows and technology advances, it's essential to be able to adjust IT infrastructure and equipment as needed. DataSpan delivers customized solutions to help you increase your data center's technological capabilities.
As a national data and technology solutions provider with almost 50 years of experience, DataSpan can empower you to transform your infrastructure and processes. Our products, solutions and services equip you to build and maintain a data center that grows with your company and the changing 5G landscape. Contact DataSpan to learn more about how we can help you maintain pace with 5G networks.