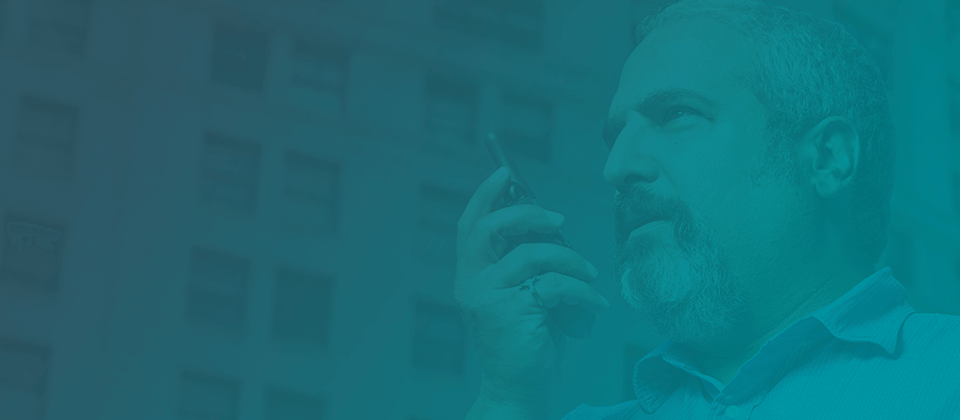 Effective communication is essential for business success. Whether you guide a new employee through a training program or give instructions for completing a new task, you must communicate clearly. Improved communication efforts can boost employee engagement and enhance customer satisfaction.
Two-way radios — also called business radios — are an excellent way to enhance your organization's communication. These devices can transmit and receive radio waves, allowing for instant connection. Here are six ways that two-way radios improve business communications.
1. They Improve Safety
No matter the industry, customer and employee safety are vital. Two-way radios enhance communication surrounding emergencies, accidents or other occurrences. You can instantly connect with supervisors or security and alert them of developing problems.
For example, employees could report problems like:
Hazardous spills.
Customer theft.
Threatening situations or customers.
Weather changes.
Business radios also contain safety features that streamline emergency communications, such as:
Emergency alarms: Two-way radios have bright emergency buttons in a prominent and accessible position. After pressing the button, an emergency alarm is triggered. You can program the alarm to reach administrators, emergency dispatchers or other important contacts. You can also set automatic alarms after periods of inactivity or unresponsiveness. For instance, if someone works in a hazardous zone and doesn't report for multiple hours, the radio automatically sends an emergency signal.
GPS: You can also find business radios equipped with GPS. This feature lets you keep track of employee locations at all times. You can instantly locate an employee who set off an emergency alarm or requests assistance with a threatening situation.
Priority interrupt function: The priority interrupt function lets callers disrupt radio input with emergency messages. It clears the channels and alerts all users with important emergency information.
Long battery life: Business radios have long-lasting batteries, ensuring they remain operative during entire shifts. Employees stay protected with instant access to their co-workers and supervisors, even through extended working hours.
2. They Help With Organization
Business radios also assist with organization. Many work environments contain large numbers of employees, often spread across different locations. Managing large teams becomes difficult without proper communication.
Two-way radios make it easy to speak with employees. You can deliver clear instructions to all related parties, keeping everything running smoothly. Employees can respond instantly, indicating they received the instructions or asking related questions.
The devices also assist with floor organization or when employees change shifts. Instead of manually finding each employee and explaining their new assignment, you can speak with them immediately. For instance, a retail store might need more assistance at the cash registers, and the manager could quickly speak with a team member in inventory over the radio and request their help up front.
3. They Promote Teamwork
Another example of how business radios improve business communications is enhanced teamwork. Business radios give employees a way to instantly connect with co-workers. Increased communication can lead to stronger relationships and a greater sense of camaraderie among your team.
4. They Boost Efficiency
Radio communication can also assist with efficiency. Lagging communication or unclear directions can hinder progress, especially if employees don't receive timely updates. Projects often change directions, requiring workers to approach tasks differently. Without quick updates, employees could continue working incorrectly and cut efficiency even further.
Two-way radios encourage effective communication and teamwork, enhancing efficiency across all areas. By simplifying communication, you create an open and accurate work environment. Team members can ask questions to confirm they're working correctly, minimizing do-overs later.
Immediate communication also boosts efficiency. Team members might miss emails or text messages while working on a task, or be unable to view them until later. Business radios work more urgently, updating employees in real-time. Employees can immediately change their tactics, minimizing ineffective work.
In addition, two-way radios let you filter information. Instead of sending mass messages to the entire team, you can speak with people individually. This direct communication quickens the question process. It also eliminates miscommunications. Employees can discuss the topic at hand until both have a complete understanding. For example, an employee can contact a manager to discuss a private topic or confirm they understand certain instructions.
5. They Increase Accessibility
Business radios are user-friendly, making them an accessible option for any team member. You can equip all employees with the same device type, and the radios work intuitively, minimizing the need for long training hours.
Their easy use also prevents distractions. Instead of spending extra time trying to understand the tool, employees can use it instantly. Reduced training time lets employees get started on projects more quickly.
6. They Offer Versatility
Business radios are a versatile solution, fitting the needs of many business and organizational types. For instance, they can enhance industries like:
Construction: Construction sites need effective communication to safely manage many moving parts and employees. Loud noises and altered instructions can make it challenging to speak clearly to others. Two-way radios let people speak with minimal disturbances. Many devices have noise-canceling functions that can lower ongoing construction noises. Their durability also helps them withstand tough work conditions, ensuring a long battery life.
Manufacturing: Business radios let manufacturing employees speak clearly and quickly with one another. Large manufacturing plants can impede communication efforts, making it take much longer for messages to send. Employees can also share one-on-one conversations and provide important updates that aren't meant for an entire work floor.
Retail: Customer satisfaction is paramount for retail. Business radios give you instant access to co-workers, whether they're behind the register or on the sales floor. Employees can ask questions or update their supervisors on ongoing situations.
Education: You can also use two-way radios in many educational settings. Teachers can speak to one another or contact administrators. The devices are also helpful for settings like residence halls or sports practices.
Amusement & Water Parks & Family Fun Centers, etc: Staff and Guests can speak to each other on a timely basis. Radios can enhance the visitor experience, increase safety & security, and improve operations.
Contact DataSpan Today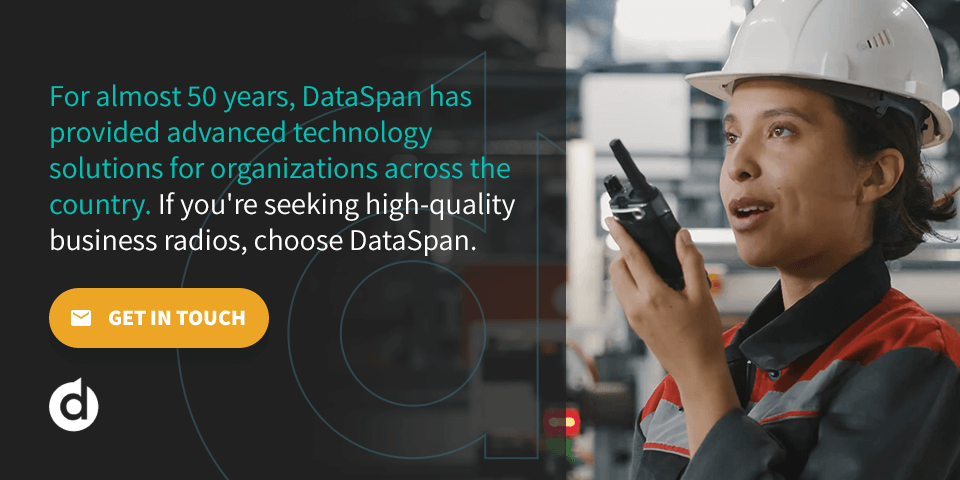 For almost 50 years, DataSpan has provided advanced technology solutions for organizations across the country. If you're seeking high-quality business radios, choose DataSpan today.
Our two-way radios can improve communication across all departments, resulting in higher productivity. Whether you work on a construction site, at a K-12 school, at a hospital, or anywhere in between, our two-way radios can transform your communication procedures.
Business radios can help you increase sales, improve customer satisfaction, lower labor costs and enjoy a host of other benefits. Our advanced technology offers the durability and speed you need to enhance your operations.
To learn more about our two-way radios, request more information today.