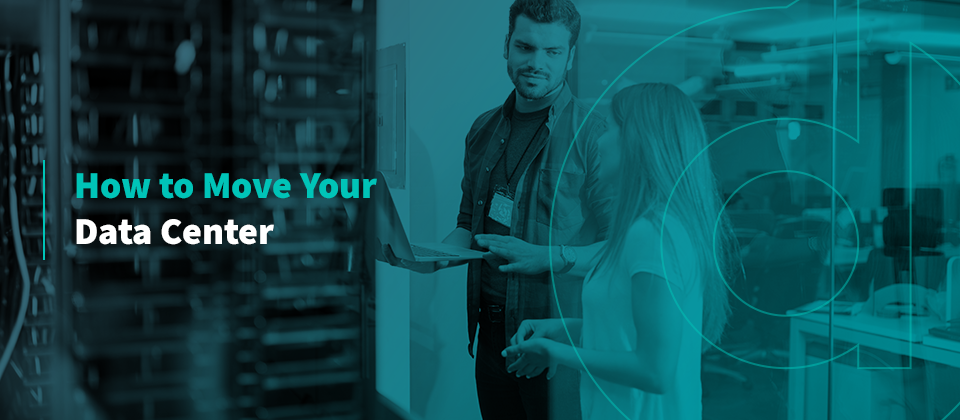 Moving a data center is something that many businesses decide to do at one point or another. A company might want to move the data center to a more dedicated or secure location or might undergo a merger or acquisition that requires consolidation of data centers. Whatever the reason, moving a data center is a massive undertaking, requiring a great deal of time, effort and money. However, by following data center migration best practices, your business can minimize costs and maximize efficiency in your data center migration. To help your data center move go smoothly, we've put together a step-by-step process for you to follow.


1. Decide to Move
The first step in the data center migration process is the actual decision to move. When making this decision, ensure that the benefits of moving outweigh the costs and that your reason for moving or consolidating your data center is sound.
Once you have decided to move, carefully choose the provider you are going to move to. When selecting a provider, consider the following:
Location: Look into a provider with multiple locations that you can leverage and work with the provider to determine the best site for your business. Once you select a location, look into the logistics of what it will take to move your data center.
Contract: Take a look at the requirements for the data center before you decide to work with them. Do they require paperwork for you to do anything in their space? Do they have any standards as to how your racks should be set up? If you decide to move data centers again, what does it take to end the contract?
Services: For any provider, look into the services that they provide. What is their maintenance schedule like? Do they offer any assistance with data center moving and setup? What is their security like? Do they offer any disaster recovery services?
Once you have determined that a provider is a good match for your business, sign the contract and start planning your move. This is also the time to start alerting your vendors and service providers of the move so that they can prepare.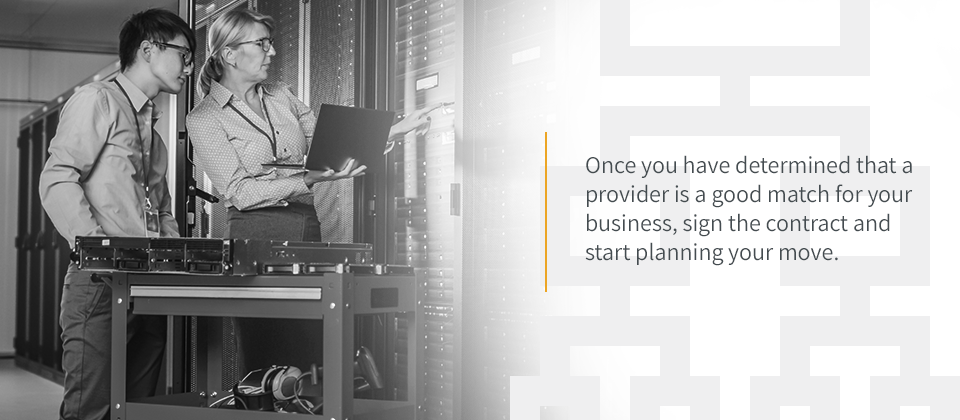 2. Assemble a Team
As soon as you decide to move, assemble a moving team. This team should consist of the following personnel:
Leadership: Leaders are the active decision-makers throughout the moving process. These people should include both company and IT leadership. Additionally, there should be a migration project manager who is the primary point of contact for the move. This person holds all involved teams accountable for deliverables, communicates the timeline and identifies and follows up on needs and problems. This person will also be a key player on migration day and coordinate all the moving parts.
Digital Team: The digital team comes into play later in the moving plan but should be selected early on. The digital team will be responsible for monitoring your business' systems during the migration process and assessing the system after the fact. These people should be experienced IT professionals who are familiar with your existing system and can provide valuable insight into its functionality.
Moving Team: Physical movers don't need to be selected until closer to the moving date because these people will not come into play until the day of the move. If you decide to use internal employees as physical movers, inform them of the schedule as soon as possible as they will be working during your business' off-hours. In most cases, however, physical movers will be employees of a third party.
In addition to these groups, you may also wish to work with a professional IT company like DataSpan that can assist you with your data center move strategy and provide valuable insight into how to improve your existing systems.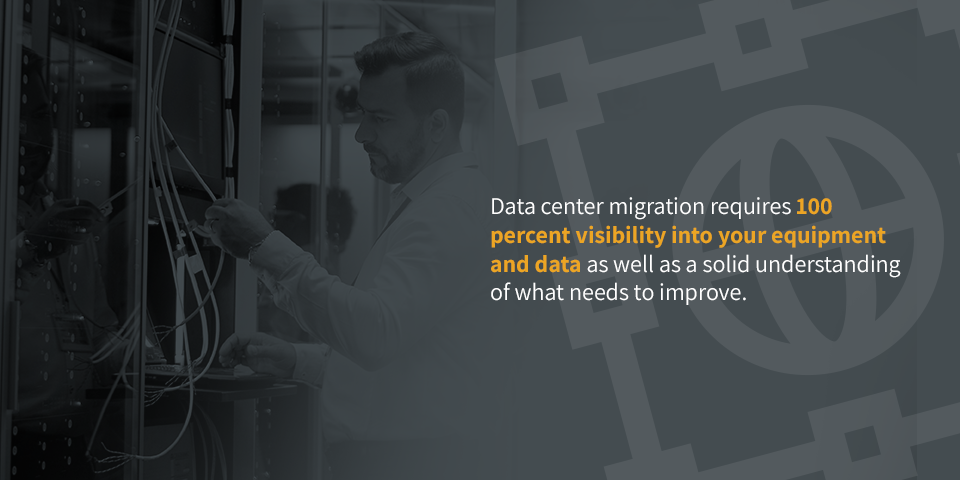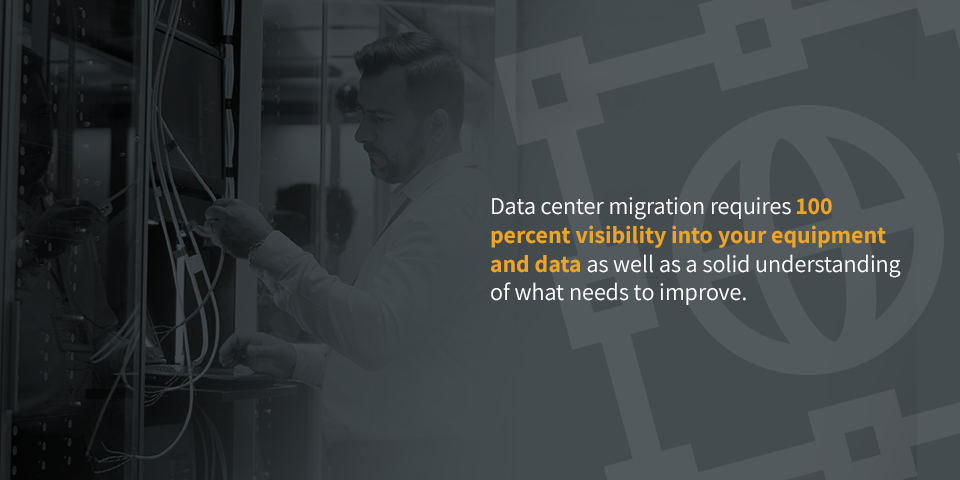 3. Assess Your Infrastructure
The next step in the moving process is to assess your overall infrastructure. Data center migration requires 100 percent visibility into your equipment and data as well as a solid understanding of what needs to improve. Some things to consider for this step include:
Update Your Asset Tracking: An effective way to gain visibility into your infrastructure and its current challenges is to use a configuration management database. This database tracks your assets and how they are being used, giving you a better sense of what you need and what you don't. This tool will be valuable in the future as you continuously monitor and improve your data center.
Assess Your Requirements: Many businesses must maintain data centers to industry specifications, especially if they work for the government or a specialized technical industry. Before beginning the planning process, compile all pertinent specifications for your business and create a list of requirements that your data center must meet. This will make it significantly easier to assess potential changes and upgrades.
Assess Your Contracts: If you have any vendor contracts, a data center move is a good time to assess them. Do any of your contracts with hardware and software providers need to be terminated? Are there any providers that are unable to move to your new location or are incompatible with the system you want to build? It may also be a good time to see if you can negotiate a better deal with any vendors you want to continue working with.
Using this information, your business can create a general roadmap for your data center improvements, which you can further tailor during the next steps of the process.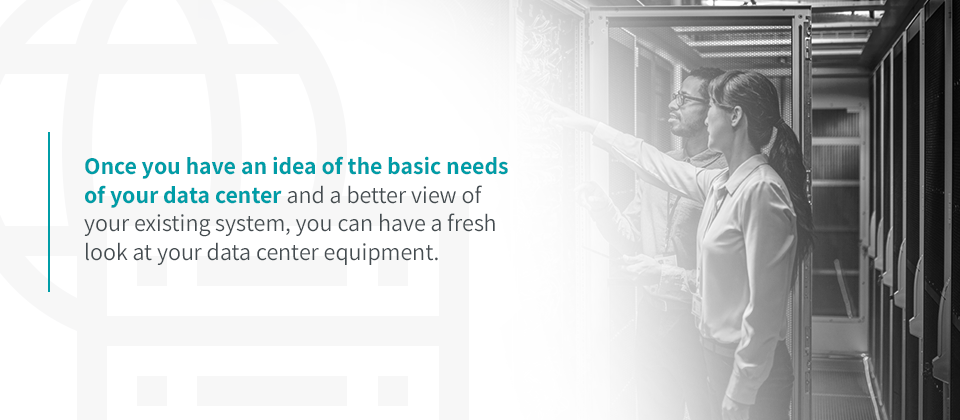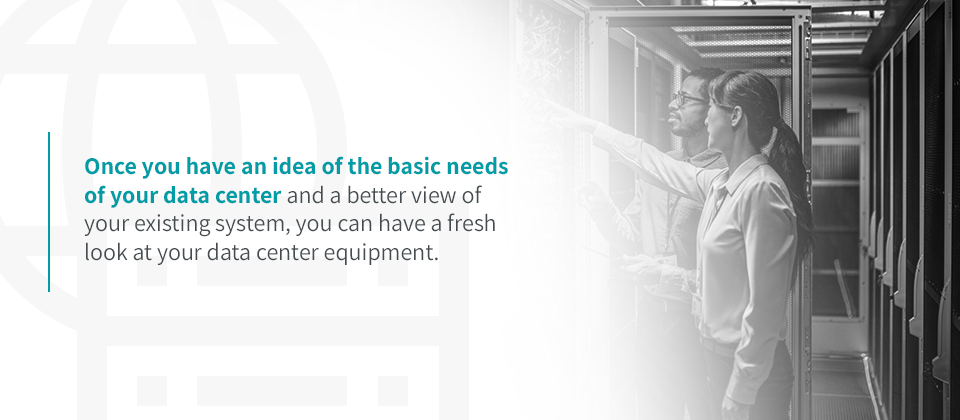 4. Decide What to Move and What to Order
Once you have an idea of the basic needs of your data center and a better view of your existing system, you can have a fresh look at your data center equipment. Have your team take a look at your data center and make the following assessments and decisions:
Take Inventory: Inventory should always be maintained, but it's important to take inventory from scratch when you're working on a data center migration. Assess your current inventory along with any existing needs and gaps.
Identify Necessary Replacements: Any equipment that no longer meets industry standards or is too old to effectively support your existing system needs to be replaced. Have your team tag any equipment that needs to be removed and create a comprehensive list of these items. Later, you'll decide what to purchase as replacements.
Consider Your New Location: This is the best time to start thinking about how you want to adapt your equipment to the space you'll be moving into. Do you want to try implementing aisle containment or pods in your new design? Would a higher density environment be feasible to design? Review both your existing technology and the new data center location to determine if upgrades like these would be beneficial.
Create an IT Wishlist: Since everything is moving anyway, a data center move is a good time to assess and upgrade your equipment. Meet with your IT team and decision-makers to create a list of potential equipment upgrades, especially upgrades for equipment that needs to be replaced anyway.
Once this is complete, immediately start finding vendors and ordering parts. Be sure to order circuits and cables as soon as possible, as circuits can take 90 to 120 days to get set up and cables can take over 12 weeks to arrive after ordering.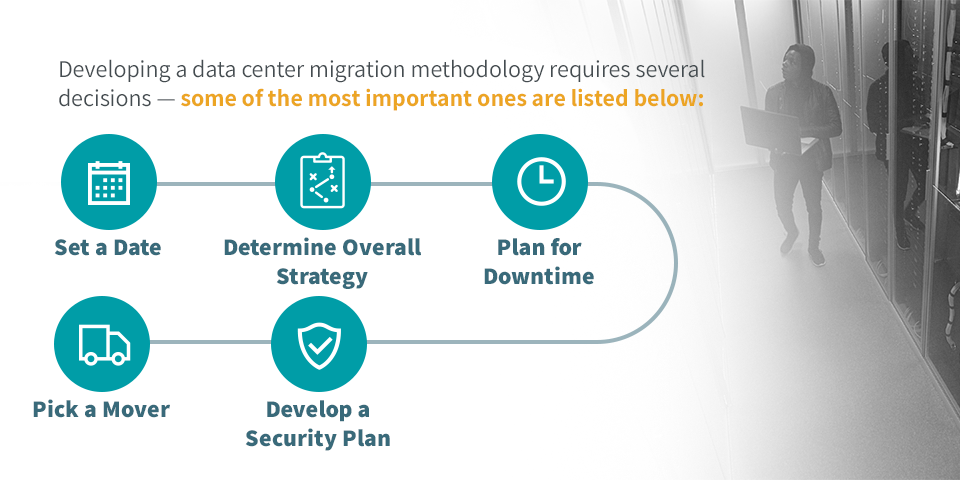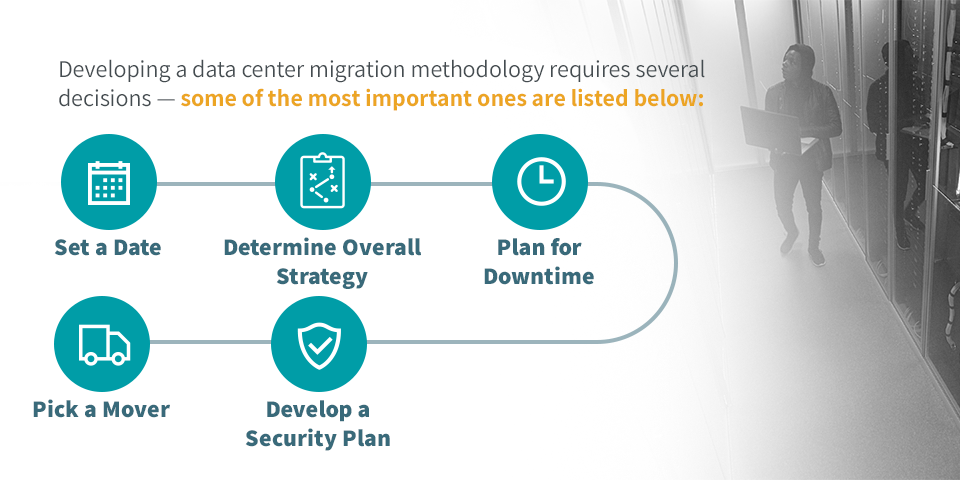 5. Create a Moving Plan
Now that you have an idea of what your final data center will look like, it's time to get down to the moving plan. Developing a data center migration methodology requires several decisions — some of the most important ones are listed below:
Set a Date: You'll probably have a target date decided when you start the moving process, but now that equipment is ordered and plans are in motion, it's time to finalize the date. Schedule the move date as early in the process as possible so that your business and employees are prepared and can avoid planning major events like project launches during that time. Be sure to determine the estimated length of the moving process as well. Once you set these dates, communicate them to your internal employees and your new provider.
Determine Overall Strategy: Decide among your team whether it will be better to move all your equipment at once or in smaller groups. Moving your data center in chunks is a slower process, but it allows you to keep parts of the data center running throughout the move. Moving all at once is quicker, but requires that your existing systems go offline, resulting in downtime if you don't have an alternate plan in place.
Plan for Downtime: If your business needs to maintain functionality throughout the moving process, you may need additional resources to ensure that everything continues running as needed. This may include renting equipment or getting a service contract for the migration period. If downtime is something your business is comfortable with, however, this may not be necessary.
Pick a Mover: If your company doesn't have the resources to move your data center yourself, hiring a moving company is an excellent solution. Sometimes, the professional IT company you hire to help with your migration may offer moving services. Otherwise, many moving companies have experience handling IT equipment.
Develop a Security Plan: Your data is important to your business, so making sure that it is secure is paramount. Determine how the move will be monitored and ensure that you have protocols in place to check the identity of movers and track equipment through the moving process.
Once you've made these decisions, create a moving checklist tailored to your plan. Your migration manager can use this checklist in the days leading up to the move and throughout the moving process to ensure that everything is progressing as planned.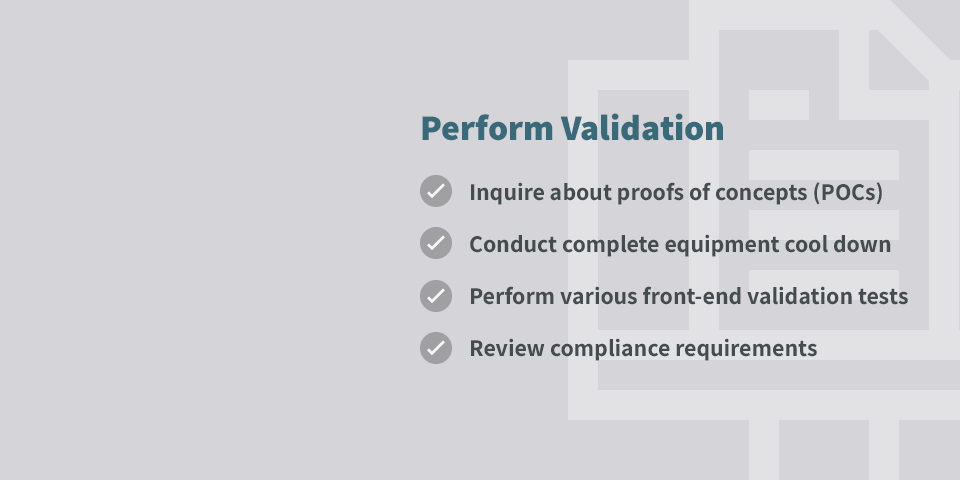 6. Prepare for the Move
The days leading up to the move are essential for moving success. During this time, make sure that everything is in place so that the migration can flow smoothly. Some tasks to complete during this period include:
Alert Vendors and Providers: Though you will have already alerted vendors and providers of your move, be sure to remind them the week of the move. Human error is always a possibility, and the last thing you want is to encounter a problem with a vendor in the middle of migration.
Install Racks and Monitors Early: Migrations are always a little chaotic, so get as much done as you can before the move. One easy thing to do before moving day is to install rail kits, rack components, power cables and monitoring sensors. Not only will this save time during moving day, but it will allow you to look at the overall setup of your new data center and make any last-minute adjustments.
Take Inventory: Now more than ever, it is essential to take inventory before the move. Make sure that everything is there and that any new equipment is accounted for. Make a note about any equipment that is still en route the day before the move.
Pack and Label Everything: Pack, organize and label everything whether it is staying or going. One method is to tag everything with alphanumeric colored labels — this system should be simple and easy to understand for movers.
Check Your System: Before you unplug anything, conduct several front-end validation tests. Data execution problems affect about 50 percent of failed migrations. While your business may have already been paused to facilitate the move, scheduled backups, software updates and live workloads may still be operating on the system and may result in data corruption. Have your digital team double-check everything to be sure that you are ready for the move.
Finalize Your Strategy: Whether you are moving everything at once or in small chunks, now is the time to coordinate and finalize the plan. Determine if you are moving equipment by location, by order of importance or by another method.
Once these steps are complete, all that's left is the move itself.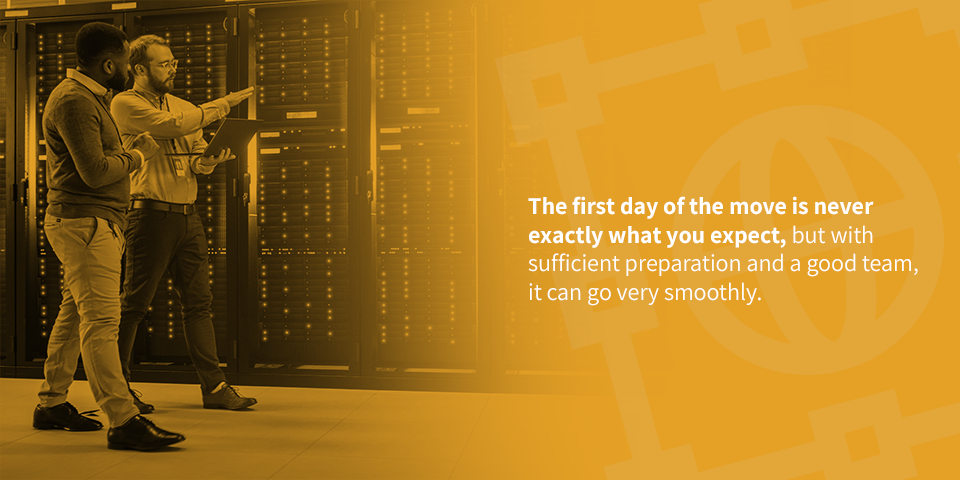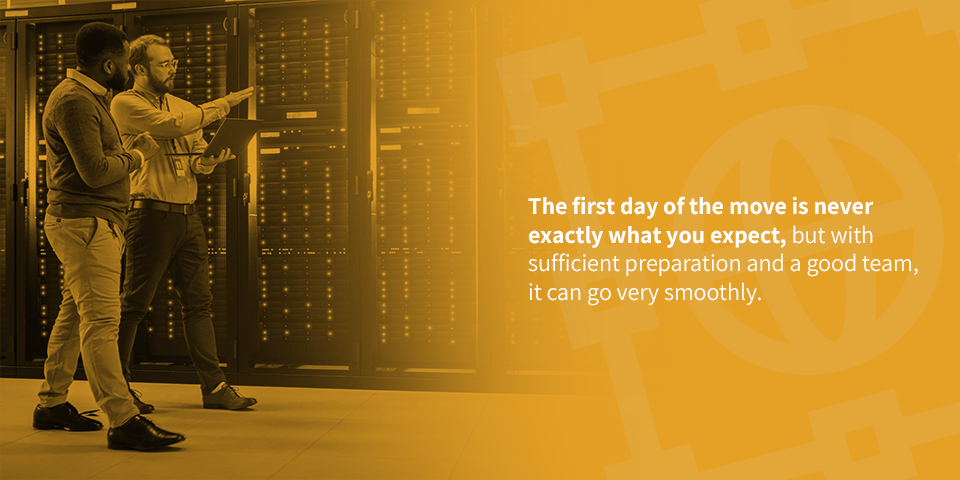 7. Make the Move
The first day of the move is never exactly what you expect, but with sufficient preparation and a good team, it can go very smoothly. Here are some points to keep in mind on moving day and during the migration process:
Maintain Your Team Structure: Ensure that your teams are all in place and function within their given roles. The migration project manager should oversee the entire process, alongside the leadership team, while the digital team monitors the functional side of the migration and the moving team transports the equipment between locations. If the migration process is meant to be continuous, coordinate your teams to work in shifts to avoid exhaustion.
Maintain Security: Maintaining security throughout the moving process is essential for preserving your data. Keep track of the equipment as it comes and goes, check the credentials of workers on each team and monitor security logs. Basic security protocols should also be preserved, such as monitoring doors that are propped open for the move.
Dispose of Old Equipment Responsibly: You may decide to have a disposal team working alongside your moving team. Be sure that they dispose of any old equipment responsibly and through the proper means. Purge any items you're discarding of all data or physically destroy the equipment if this is not possible. Recycle or sell any properly purged equipment and dispose of anything that needed to be destroyed through the proper channels.
Once everything is moved, it's time to move on to the final step of checking and testing your new setup.

8. Document and Test the New Setup
As soon as everything is moved to the new data center, it's time to double-check everything. Upon completion of the move, be sure to complete the following steps:
Take Inventory: It's such an important step that it bears repeating — take inventory. As soon as the movers have finished their job, take inventory of everything in the room to ensure that nothing was misplaced or lost.
Start Testing: The digital team must start testing as soon as the new data center is set up and the software is installed. The team should go through a checklist of systems and applications to make sure that they are all running and that nothing is missing. If new equipment was installed during the move, this is also the time to test that the replacement is properly installed and functioning as intended.
Fill All Gaps: If any equipment was damaged during the move or you find that anything isn't working, troubleshoot and find ways to fill the gaps as necessary. This may involve renting some equipment while you're waiting for an order to come in.


When everything is complete and the system is up and running, your leadership team can then review the process as a whole. Did the move meet your target timeline? Did you meet your budget goals? How did your movers and digital team feel about how the move went? This project audit not only helps you assess how well the move went but also provides valuable information that you can use in any future moves.
Final Thoughts on Data Center Move Strategies
The above steps and considerations may seem broad and self-explanatory, but too many companies experience problems during migration because they forgot a simple yet important step. Avoid the same fate by planning your data center migration with the listed steps serving as your base and documenting everything to help you avoid problems in the future.
There are many more details to consider during data center migration, however. We've discussed some of these data center migration best practices in a previous post, but there are always more to consider. One way to make sure that your company considers all the factors is by working with a professional IT company that specializes in data center move strategies. DataSpan is that company.
DataSpan's Data Center Relocation Services
In today's world, data is king. It plays an essential role in the success of nearly every company. Just as important, however, is managing costs and risks. As such, data center migration can be a daunting prospect. However, data center migration can be much simpler when you partner with an experienced IT company.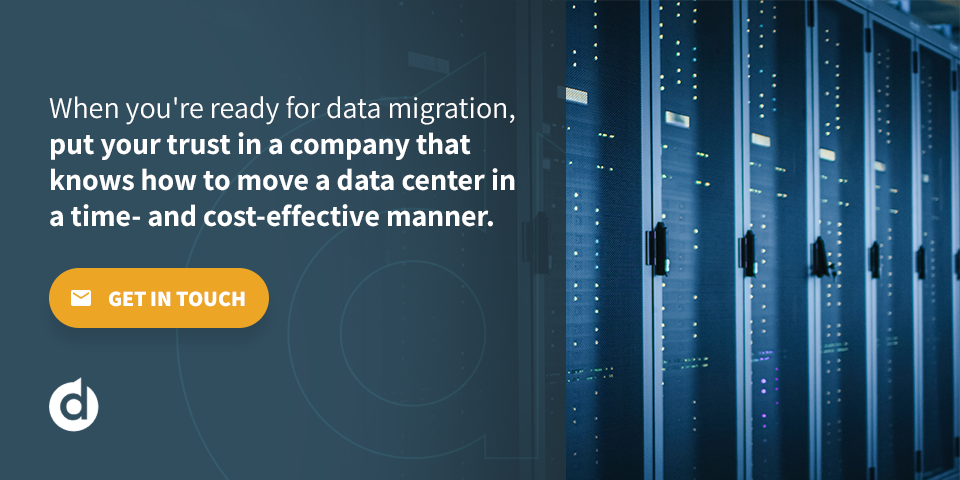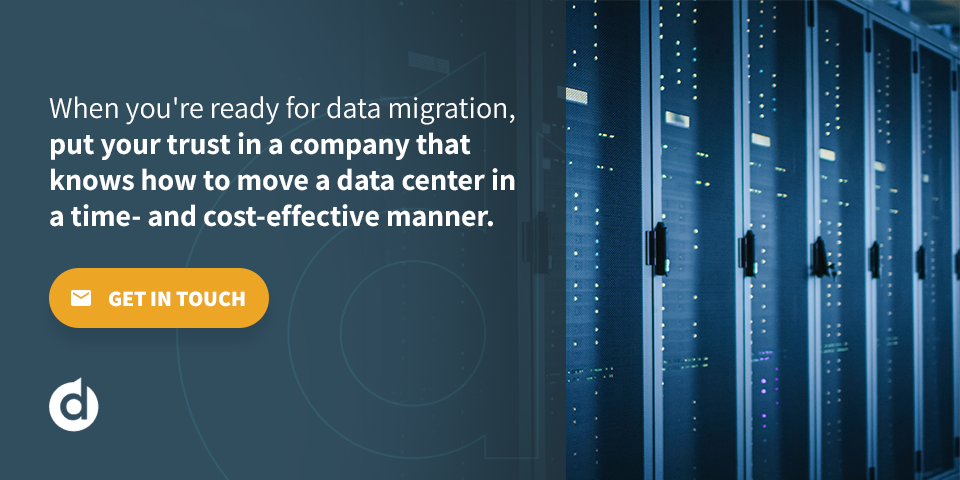 When you're ready for data migration, put your trust in a company that knows how to move a data center in a time- and cost-effective manner. From migrations to consolidations, you can rely on DataSpan.
DataSpan has provided secure data center relocation, consolidation and decommissioning services since 1974. For over four decades, we've served some of the world's largest corporations, helping with the migration process at every step from planning to auditing to secure asset disposal. We develop personalized plans that are tailored to the needs of your business so that you get exactly what you need.
Choose a professional company that knows what your company needs and has the experience to get it done. Contact DataSpan today to discover how we can help you move, relocate, consolidate or decommission your data center.