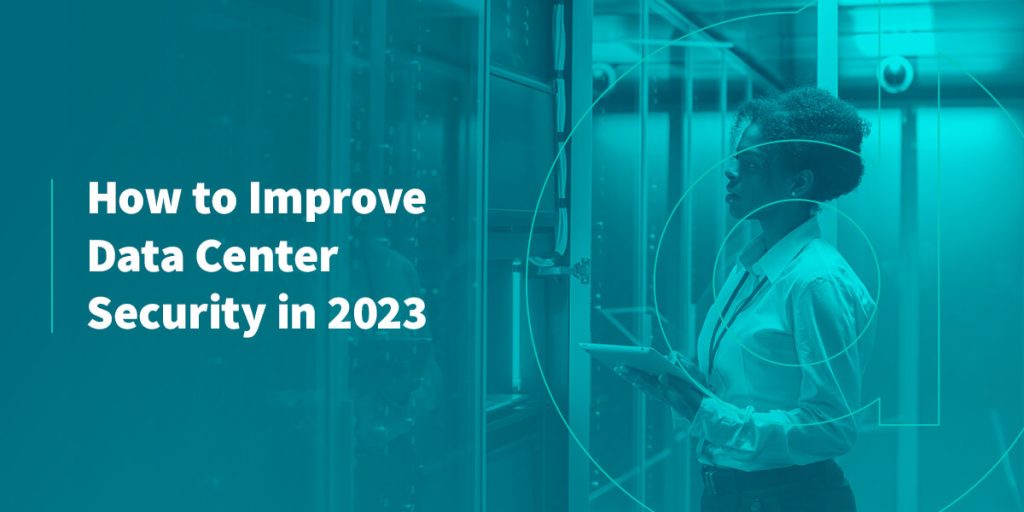 System failure can be disastrous for a data center — and it's only getting more expensive. According to the Uptime Institute, 60% of system failures cause more than $100,000 in damages. That's a dramatic increase from 2019, when only 39% of failures exceeded $100,000.
For many companies, outages are a "when" rather than an "if." That's why preparing for situations like natural disasters, theft, networking issues or power outages is paramount. Having practical protocols and safeguards in place makes it possible to keep costs low and recover quickly.
The new year is almost here. Now is the best time to start making data center security a priority for your organization. These recommendations can provide a starting point.
4 Data Center Security Tips
We created this list to help you generate some ideas for evaluating your security system. Here are four tips for improving your data center's security system this year.
1. Verify Your Compliance With Government and Industry Standards
Any time you want to make changes to your security system, begin with compliance in mind. Government and industry data center standards verify that your client's data is secure.
These standards also outline key data center security best practices. Some specific examples that may apply to your company may include the following.
FEDRAMP: The Federal Risk and Authorization Management Program validates that data centers have the appropriate precautions in place.
HIPAA: The Health Insurance Portability and Accountability Act is a standard specific to the health care industry. It concerns the secure transmission, storage and handling of protected health information.
PCI-DSS: The Payment Card Industry Data Security Standard protects data from credit card holders and reduces the risk of credit fraud. Any organization handling credit cards must comply with this standard.
These standards often change along with evolving technology, so even if you were formerly compliant, you might not be anymore. Make sure to brush up on anything that may have changed since your last inspection.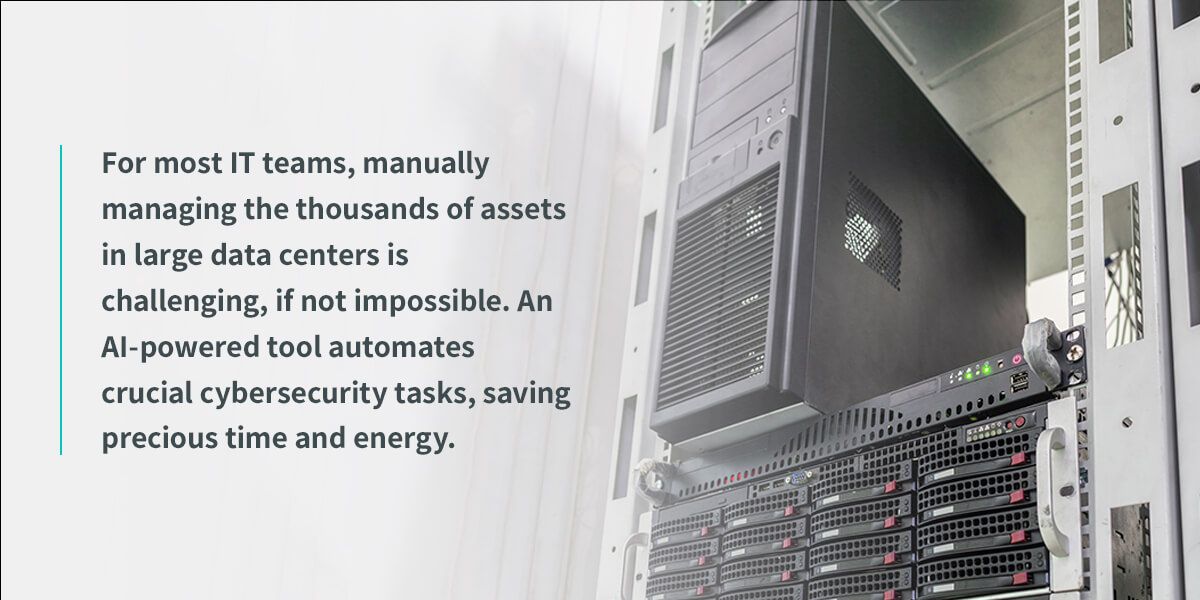 2. Implement Advanced Threat Detection Tools
Once you know your center complies with the appropriate standards, you can move on to cybersecurity. AI-based advanced threat protection (ATP) tools are becoming increasingly popular in data centers worldwide — and for good reason.
For most IT teams, manually managing the thousands of assets in large data centers is challenging, if not impossible. An AI-powered tool automates crucial cybersecurity tasks, saving precious time and energy.
ATP can also apply to physical security. For example, AI-driven temperature control is a helpful technology for managing heating and cooling.
By automating your climate system, you can:
Prevent data loss resulting from overheating equipment
Improve cooling efficiency
Reduce carbon emissions
Though these systems are still new, they're promising for the future of data center security and climate control.
3. Enhance Your Physical Security
While it's critical to have a robust cybersecurity system, you still need to prepare for physical threats like theft or burglary.
Combining a unified physical security system with your digital protections can help you maximize uptime. While integrated systems combining many technologies work well for smaller centers, they can often be too complex for larger operations. If you operate a large data center — or your data center is expanding — investing in unified, robust physical security systems can help prevent costly downtime and loss of property.
This data center security checklist includes some potential upgrades.
Access control: These systems ensure only people with the appropriate authorizations can enter specific areas. Access control systems are available for physical and digital spaces.
Biometric identification: Biometrics require employees to use unique physical characteristics as authorization. These characteristics can include fingerprints or facial recognition. Because these characteristics are unique to each employee, attackers can't steal them, which prevents unauthorized access.
CCTV systems: Closed-circuit television systems equipped with video analytics technology can help you catch suspicious people before they commit a crime. They can also make it easier to investigate and solve an incident if one occurs.
Security guards: If you don't already have a dedicated security team, it's worth considering. Some security companies will combine a team of specialized officers with access controls and fire safety to provide a comprehensive package.
Mantraps: A mantrap consists of two interlocking doors with a small open space between them. The person attempting to enter your data center can only open the second door after successfully locking the first one. However, if the person lacks the proper credentials, the second door will remain locked, and the attacker will remain in the center chamber.
4. Prepare for Disaster
The last thing you should consider when evaluating your data center security system is preparing for scenarios such as natural disasters and power outages.
Redundancy is vital for resuming regular operations after disaster strikes. Have a backup of everything, including power systems, ready to go in case your primary systems fail.
Backing up your clients' data is crucial for preventing disastrous data loss. Here are some tips for making sure your backups are up-to-date and accessible when you need them.
Follow a backup routine: Regularly back up cloud-based and physical infrastructure to ensure there is always an updated copy available.
Know your backup locations: Make sure your entire team knows where all your physical and digital copies are, so they can easily access them in emergencies.
Provide necessary access: Verify that your team has the access they need, including keys, contracts, passwords and other approved credentials. This step is especially critical if you have employees distributed nationwide.
Test recovery metrics: Regularly test and document your recovery point and recovery time objectives.
Lastly, if you have multiple locations, you need to consider what might happen if you lost an entire center. Do you have the resources to spin up your systems and restore your data to a secondary site if necessary?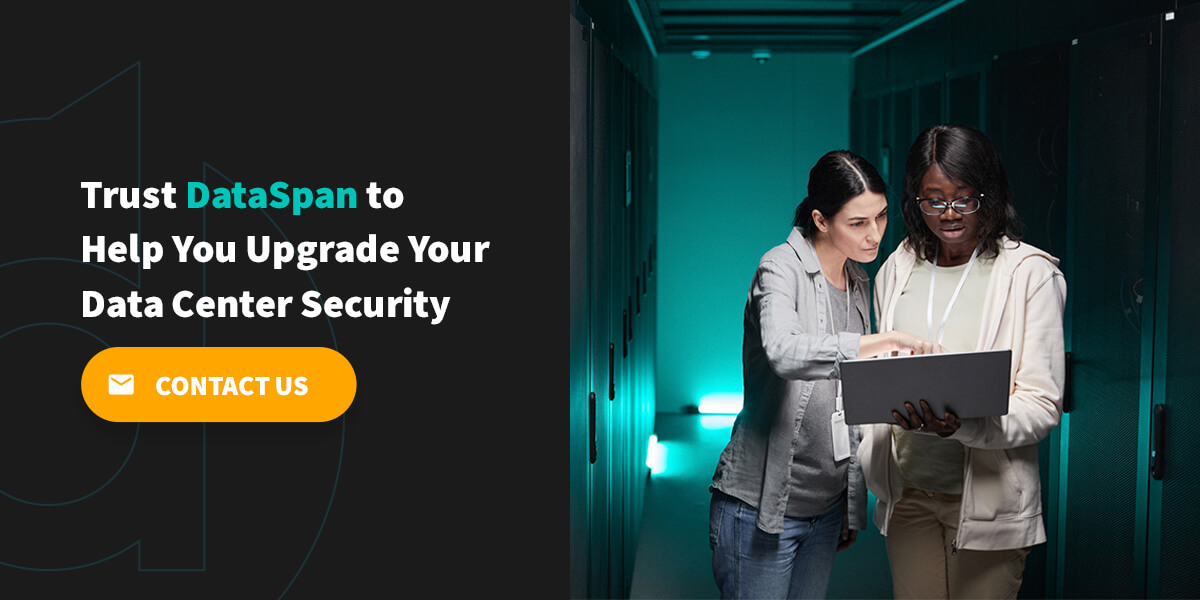 Trust DataSpan to Help You Upgrade Your Data Center Security
We hope these tips helped you come up with some ways to tighten your data center's defenses this year. For more suggestions, read our previous blog post on the topic.
As cybersecurity threats continue evolving, it's becoming more critical to cover all your potential vulnerabilities. Whether that means closing gaps in your digital attack surface or implementing more physical protections, it's best to be proactive.
We help you design custom solutions for all your data center needs, including security upgrades. If you're considering updating your security strategy, DataSpan is here for you. Contact us for more information about our services, or click here to find your local rep.