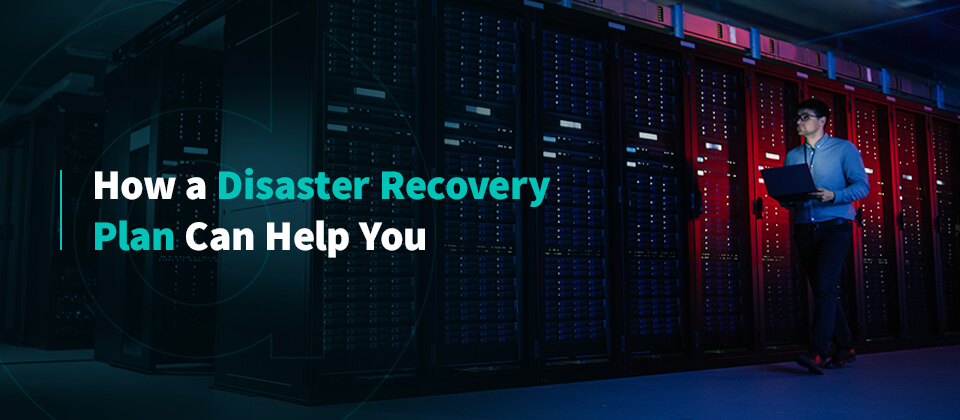 Technology and electronic data are at the core of business operations today. However, disasters can result in massive data losses. Whether they are natural disasters such as fires and floods or human-made disasters such as cyberattacks, these events can corrupt or destroy data.
Data losses can be catastrophic for businesses — about 25% of businesses fail within a year of a disaster event, and 90% close within two years. To avoid becoming a statistic, organizations need to protect themselves from disasters. One way to do this is by developing and implementing a disaster recovery plan.
What Is a Disaster Recovery Plan?
Disaster recovery is what a business needs to do in order to return to normal operations following a disaster. A disaster recovery plan (DRP) is a policy or process that organizes a business' response to help with disaster recovery. The purpose of a disaster recovery plan is to outline the actions that need to be taken before, during and after a disaster event. This plan aims to protect the company's IT infrastructure and set the organization up for a full recovery once the event is over.
How to Build a Disaster Recovery Plan
Each company's disaster risks are unique, so there is no single disaster recovery plan that will work for every business. Instead, companies should work with their IT teams and disaster recovery specialists to develop a plan tailored to their needs. The program should be comprehensive yet easy to understand. When building your company's disaster recovery plan, focus on these priorities:
Select a team: Identify members of your IT team and related business units who will be responsible for implementing and maintaining the disaster recovery plan. These people will also be key players in helping to build the DRP. If you are working with a data backup vendor, this vendor must also be involved in the DRP.
Assess risks: Your disaster recovery team and stakeholders will work to assess the risks to your organization, including any natural disasters, cyberattack threats and technology-related risks. This will help your team identify strategies and resources you'll need for disaster prevention and recovery.
Identify critical resources: Next, conduct risk analyses and prioritization exercises to identify the systems and resources that are most critical for your business. Your DRP should prioritize these systems, then create an ordered list covering all other resources and the sequence in which to handle them.
Set realistic goals: Set goals for data backups and recovery speed that are realistic and achievable. This should include two key goals — RTO and RPO. A recovery time objective (RTO) outlines how long it will take to recover your system. A recovery point objective (RPO) outlines how often your business backs up data, and therefore how old the data may be upon recovery.
Develop backup systems: Develop a data backup system that describes what to back up, who performs backups, where backups are stored and how frequently backups are performed.
Design for redundancy: Analyze your systems to identify existing redundancies and opportunities to introduce them. Also, consider how you will bring operations back to normal after a disaster occurs if you utilize these redundancies.
Test and improve: After you've built your disaster recovery plan, create a protocol and schedule for analyzing and improving the plan. Disaster recovery planning is a continuous process, and new threats and technologies are constantly arising, so your plan needs to evolve with the times. You should also update the plan following a disaster event, analyzing what went well and what could be done better in the future.
The Benefits of a Disaster Recovery Plan
Disaster recovery plans provide the obvious benefit of helping with business continuity. However, having a disaster recovery plan also helps companies in other ways. The benefits of disaster recovery include:
Improved productivity: Disaster recovery plans outline roles and responsibilities for team members in advance and create an efficient method for recovery after disaster strikes. This helps improve productivity and effectiveness both before and after the disaster.
Increased reputation: Clients and investors expect the best in terms of reliability. Failures, downtimes and data losses can negatively impact their confidence in your business, causing investors and clients to consider moving on to competitors. Because of this, it is essential that your business recovers quickly from disaster events. Disaster recovery planning helps keep downtime to a minimum and creates redundancies and data backup systems to ensure you lose as little as possible and maintain the confidence of your clients and investors.
Compliance: Businesses have to follow tax laws, federal regulations and industry-specific requirements for their data. This requires maximum uptime and minimal data loss, which can be achieved with a well-designed DRP. Disaster recovery plans are also common requirements for various industries, so implementing one of your own can help maintain compliance in various ways.
Scalability: Implementing disaster recovery measures involves identifying new and scalable solutions, such as the cloud. A better understanding of disaster recovery options also comes with a better understanding of scalability and the role it plays in your business, setting your company up to support long-term growth.
Cost-efficiency: Disaster recovery plans minimize the impact of disasters when they occur and require continuous improvement through innovation and optimization. All of these factors mean that your company is minimizing risk and saving money in the long run.
Choose DataSpan for Data Solutions and Disaster Recovery Storage
Disaster recovery plans create a solid outline for your business to help bounce back after a disaster. If you need help developing a disaster recovery plan or finding technology resources to develop your DRP, DataSpan is here to help.
DataSpan is a national technology solutions provider specializing in pairing companies with IT solutions that help them achieve their goals. For almost 50 years, we have provided infrastructure, data center services and storage solutions to help our customers accomplish more with fewer resources. We'll pair you with the solutions you need to meet your unique business challenges and aid in your disaster recovery planning efforts.
We also offer disaster recovery storage solutions to assist in your DRP development. Whether you want to create a private disaster recovery facility, protect data with custom solutions or work with a cloud provider, we can be your reliable storage partners. Learn more about solutions available from DataSpan and contact us today.